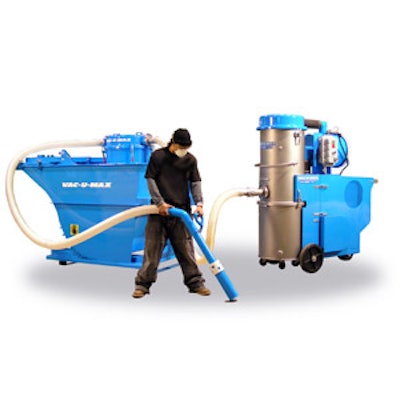 VAC-U-MAX's model 1020 continuous-duty industrial vacuum boasts 100 percent more filter area for increased efficiency, a unique atmospheric blowback system that allows filter cleaning with power on, larger wheels to deliver superior maneuverability and reduced noise levels. According to the company, the vacuum additionally offers:
Maneuverability and powerful suction, so it can also be used as a portable central vacuum system with one, two or three operators using local tubing networks in multiple areas.
The unit uses less energy than a central vacuum system that requires more horsepower to move material farther, and costs around half of what a central vacuum system cost.
Increased filter capacity, which enhances the ability to handle finer powders and filter them more efficiently, reducing the load on the vacuum producer.
The new atmospheric blowback system makes it possible to have the motor continue running while users change out filled drums or hoppers.
info@vac-u-max.com

www.vac-u-max.com