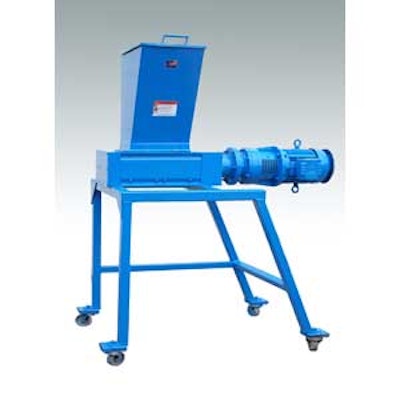 Franklin Miller has outfitted its TM8516i shredder with low-speed, high-torque counter-rotating cutters that intensively shear and shred wood, documents, product rejects, screenings, sludge, fish waste, plastics, fabrics, waste material and more. According to the company, this compact shredder also delivers:
The flexibility to be used to reprocess scrap product, reduce waste and pre-condition materials for further processing.
Suitability for either wet or dry, gravity or pressurized environments.
The ability to be easily configured for pipe systems where they protect pumps and process equipment.
A variety of cutter configurations for fine or coarse output.
The S260 automatic control system to sense jam conditions and automatically cycle the unit rotation to clear the blockage.
Stainless steel construction.
A 3- to 5-HP (2.2- to 4.0-kw) motor with a heavy-duty gear drive.
An effective mechanical seal system.
A direct cycloidal gear drive.
The inclusion of a stand and hopper.
Availability as a stand-alone unit, in dual-stage designs or as part of a complete custom-engineered size-reduction system.