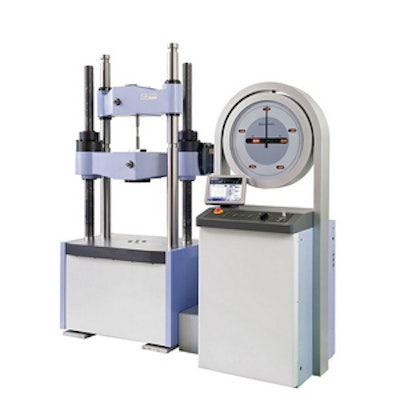 UH-X/FX series hydraulic universal testing machines from Shimadzu Scientific Instruments are designed for high-precision testing control. The company says that the series additionally offers:
An environmentally friendly design.

A semi-auto-tuning function allows high-precision stress control and strain control, and it complies with ISO 6892-2009 and JIS Z2241 metallic tensile testing standards.

Users can measure test force and strain without specifying an amplifier range.

Operators can perform tests without a computer by inserting a USB memory stick into the measurement controller with test parameters stored in the USB memory.

Measurement data is automatically saved in the USB memory after tests, which enables data analysis with Shimadzu's TRAPEZIUMX software.

Extra-large 10.4-inch color touchscreens improve visibility and ease of operation.

The hybrid hydraulic unit powering the UH-X/FX Series combines an AC servo motor with a hydraulic pump.