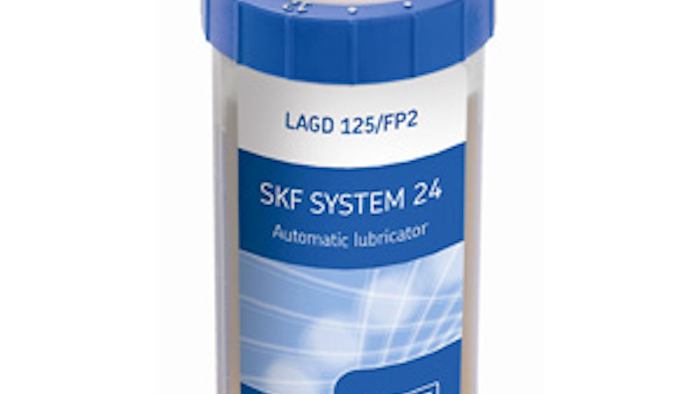 SKF Maintenance Products' SYSTEM 24 single-point automatic lubrication system has helped customers reduce costly unplanned downtime and extend bearing life for over 17 years. The company says that the system offers:
Improvements to the previous system, including:

n

o tool required to set up the unit,

e

asily detachable batteries

, i

mproved dial readabilitiy

,

redesigned top ring for better grip and

d

eactivation mode (useful during maintenance).

The easy-to-install and easy-to-use devices deliver premium quality lubricant, and allow large number of lubrication points to be covered in a cost effective and reliable way.

The units' ergonomic and easy-to-read dial allows the dispense rate to be set by hand, without the need for special tools, over a user-selectable time period of 1 to 12 months.

The comprehensive DialSet computer program, iOS and android apps make it easy to determine the correct system settings for the application.

The dispensing function and lubricant levels can be easily checked through the transparent container and the system can be temporarily de-activated when machinery is not running.

Lubricant is available in two different volumes, 125 milliliters (4.25 fluid ounces) and 60 millileters (2.03fluid ounces).

The batteries can be easily removed after use, allowing the unit to be disposed of in an environmentally friendly way.
info.mapro@skf.com

www.mapro.skf.com