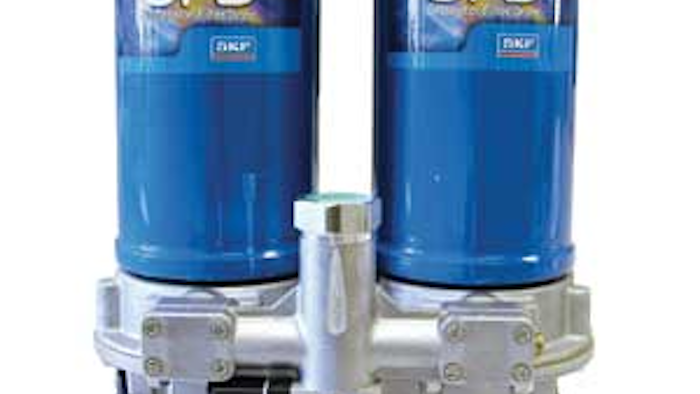 The SKF separator filter dryer system removes water, contaminants and oil vapor from compressed air to improve pneumatic equipment performance, reduce maintenance needs, increase uptime and boost productivity.  According to the company, this compact 3-in-1 system also offers:
The ability to dry compressed air directly from a compressor's reservoir tank or at the point of use for pneumatic applications, thus eliminating the need for most external filters.

A dual-cartridge design that channels air flow through 1 desiccant cartridge, while regeneration occurs in the other.

 

Performance in high or low ambient temperatures without the use of a refrigerant, a condensate drain line or a heat exchanger to clean and maintain.

Operation from 100 to 180 PSI and flow rates from 20 to 800 CFM.

 

Simplified installation on a wall or directly to a compressor's top plate for plugging into standard 120 VAC.

 

The flexibility to service systems without disassembly or removal from their mounting positions.

 

3 models from which to choose — the micro logic timer, programmable logic control and pneumatically controlled.

 

Suitability for a wide range of industries, including cement and concrete, aggregates and mining, food and beverage, and others in which an uninterrupted supply of clean, dry compressed air is critical.

Custom engineering for specific application requests.