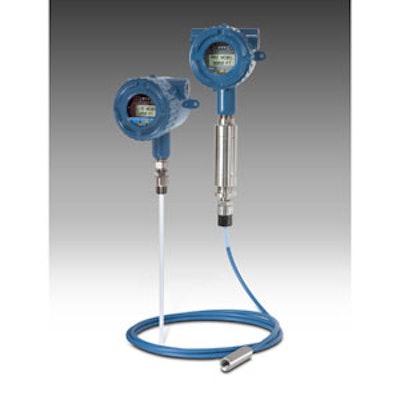 AMETEK Drexelbrook's Universal IV™ is its fourth-generation Radio Frequency (RF) Admittance/Capacitance continuous level-measurement transmitter. The company says that this new offering features:
Ideal suitability for the most common to the most challenging level-measurement applications.
Worldwide approval, including FM, FMc, ATEX, IECEx and CE Mark.
Intrinsically safe, explosion-proof and flameproof for Class 1 Div 1 Zone 0 hazardous locations.
Stable, repeatable and accurate measurement within 0.25 percent of range.
A user-friendly, push-button LCD display for configuration and monitoring.
A 2-wire, 4-20mA loop transmitter design that features the digital HART protocol as well as Drexelbrook's proven Cote-Shield™ technology.
Immunity to vapor, dust and foam interference as well as tank obstructions such as nozzles, ladders, pipes and agitators.
The broadest range of probes in the industry.
Suitability in process temperatures ranging from cryogenic to 1,000°F (537°C) and process pressures from full vacuum to 10,000PSI (690BAR).