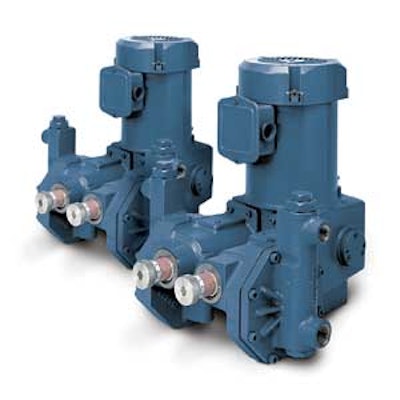 Neptune™ Chemical Pump Co. has designed its 500-D Series Hydraulic Diaphragm Metering Pumps for use in a wide array of industries and applications, from mining and agriculture to industrial and municipal water treatment. According to the company, the pumps feature:
EZE-CLEAN™ valve cartridges that can be removed from the pump heads without having to disturb the pump's piping.

Variable Oil By-pass ™ stroke adjustment that provides better valve performance than variable-linkage designs.

Double ball-check valves, internal relief valve and a hydraulically balanced Teflon® diaphragm for extended life.

Optional features, including an automatic flow-rate adjustment using an electronic stroke controller and variable frequency drives.

Pump head materials of construction are 316 stainless steel, C-20, PVC and Kynar.

Material options for the ball check valves are 316 stainless body and seat with 316 balls, PVC body and seat with ceramic balls, C-20 body and seat with C20 balls, and Kynar body and seat with ceramic balls.

Flow rates at 100 psi (60 Hz) range from 1 to 60 gph (4 to 228 lph) depending on gear ratios of 37, 72, 117 and 144 strokes per minute.

Maximum operating pressure is 3,000 psi (207 bar) and maximum temperature of 200ºF (93ºC) for 316 stainless steel and C-20; maximum pressure and temperature of PVC is 400 psi and 125ºF; and the maximum pressure and temperature of Kynar is 150 psi and 200ºF.
[email protected]

www.neptune1.com