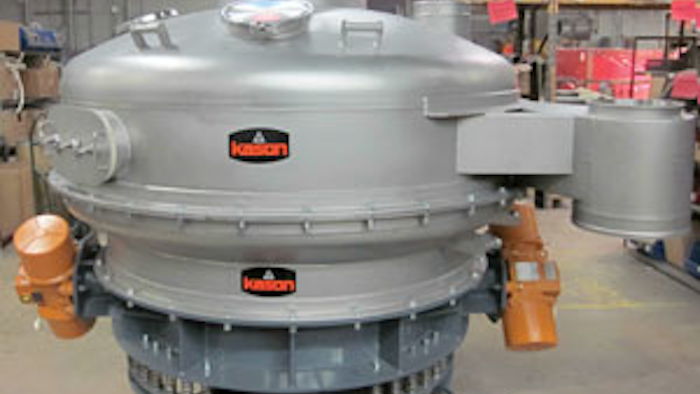 Kason introduces its Vibroscreen low-profile pressure sifter to remove oversize particles at ultra-high rates. According to the company, the sifter also offers:
Operation under a blanket of an inert gas to prevent the escape of hazardous gases and/or to sift in-line with pressurized reactors.
The capability to scalp bulk materials at rates of 50 tons per hour.
Flexible pressure sleeve connectors to seal connections to the incoming line, discharge line for on-size particles and discharge spout for oversize particles.
2 unbalanced-weight gyratory motors mounted on opposing exterior sidewalls of the unit, instead of 1 motor positioned beneath the screening chamber, to reduce minimum height requirements significantly.
Alignment of the top inlet above the bottom outlet, allowing on-size material to descend through the screen in a straight-through path at high rates.
The ejection of oversize material through a spout at the periphery of the screen.
The ability to operate under pressure on a batch or continuous basis.
Availability of stainless steel and carbon steel in diameters from 18 to 84 inches (460 to 2,135 mm).