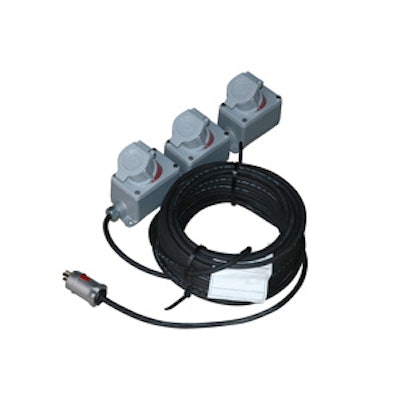 Larson Electronics' Magnalight.com has announced the introduction of a 100-foot-long, explosion-proof extension cord equipped with three receptacles to its line of explosion-proof equipment accessories. According to the company, the extension cord:
Incorporates a robust design and three explosion-proof outlets to provide a highly convenient and safe method of connecting multiple devices from one power source.

Is designed to allow operators to connect up to three devices to one power source while providing approved explosion-proof protection in Class 1 Division 1 and 2 locations.

Is chemical- and abrasion-resistant and comprised of heavy-duty, 14/3 SOOW explosion-proof cord mated with three explosion-proof aluminum receptacles and a single standard T-style explosion-proof plug.

Comes with an extra explosion-proof plug for installation on existing devices, which provides operators with the assurance their equipment will connect and operate with this unit.

Is popularly used with explosion-proof lighting and allows multiple fixtures to be connected with a minimum of excess cord left, which could pose an obstacle or safety hazard.