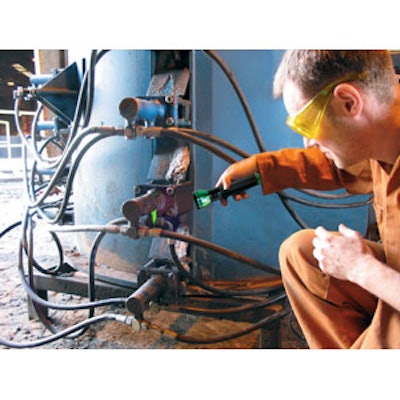 According to Spectronics Corp., its Spectroline® OPX-3000 OPTIMAX™ 3000 is the world's most powerful, portable fluorescent leak-detection flashlight, and is highlighted by:
The power to pinpoint all refrigerant leaks — even those elusive leaks that are missed by other lamps and methods of leak detection.
Super-hi-flux LED technology to deliver 15 times brighter leak-detection light than LED lamps.
An inspection range of up to 20 feet (6.1 m) or more.
A rechargeable NiMH battery with a 50,000-hour LED life.
Power that equals 150-watt lamps that must be plugged into an AC power source.
A focused beam.
No cords to become snagged on industrial equipment components.
The inclusion of fluorescence-enhancing glasses, and an AC and DC battery charger for added convenience.