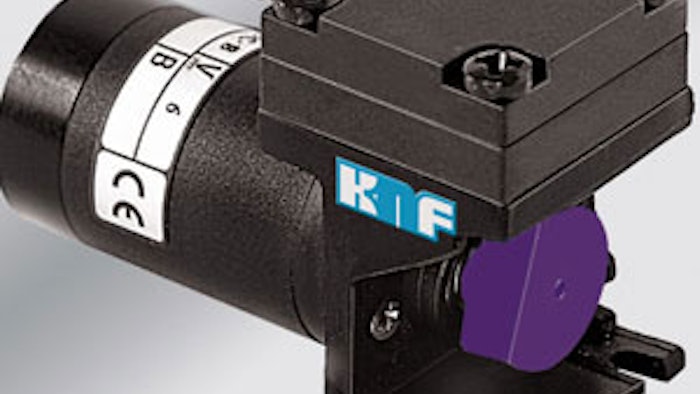 KNF Neuberger's Type NMP05 diaphragm micropump, designed for sampling air and gases, combines high performance with precision miniature packaging to deliver smooth-running, efficient and reliable operation for a wide range of portable, battery-operated equipment applications. According to the company, the pump:
Measures 17mm (width) by 26mm (height) by 31mm (length) and weighs as little as 18 g.

Provides an ideal solution for industrial hygiene devices, air samplers and medical analyzers, among many other uses.

Features a bolted-on pump head (ensuring excellent gas tightness) and an innovative molded diaphragm with structured surface (enabling maximum end vacuum and extended lifetime).

A variety of economical, low-current and robust brush-type DC motors, or premium, longer-life, ironless-core DC and BLDC motors with integrated electronics, featuring low EMI/RFI can be specified.

A unique valve system that promotes low aerodynamic loss and optimized flow.

Oil-less operation that allows for uncontaminated flow of the pumped medium.

Requires no maintenance.

Can achieve flow rates to 450 ml/min., continuous vacuum to 500 mbar (15.2 in. Hg) and continuous pressure to 150 mbar (2.2 psig).

Can be mounted in any position and can be modified or otherwise customized to satisfy particular application requirements.