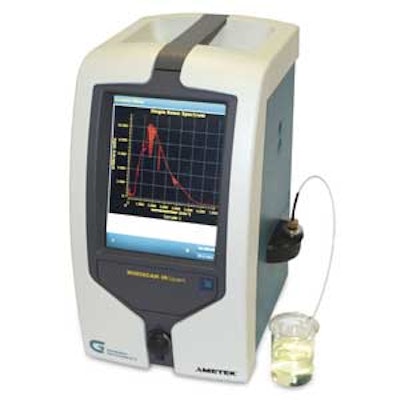 The MINISCAN IRXpert analyzer from AMETEK Grabner® Instruments is the first completely portable multi-fuel analyzer for gasoline, diesel and biodiesel blends that incorporates the advantages of mid-IR and near-IR spectroscopy to achieve unmatched accuracy of fuel properties. According to the company, the analyzer is:
An intelligent, self-learning analyzer that uses more than 12,000 data points from the infrared spectrum to determine the concentration of molecules in a sample.

Able to yield from that spectrum a "fingerprint" of more than 40 important fuel properties.

Capable of performing compound analysis according to international standards (ASTM D5845 for oxygenates, ASTM D6277 and EN 238 for benzene, and EN 14078 for biodiesel).

 

Able to offer predictions for octane number, AKI and cetane number that are based on ASTM D2699, 2700, 613, ISO 5163, 5164; distillation based on ASTM D86 and ISO 3405; and vapor pressure based on ASTM D6378, D5191, D323 and EN 13016.

Fully configured and ready for fuels testing.

 

Characterized by a high-end, full-color touchscreen that facilities menu navigation and allows for in-depth spectrum analysis.

Highly adaptable and intelligent: An unlimited number of new parameters can be added with the push of a button — users simply upload a database, and the analyzer creates the optimum measuring model.

 

Characterized by USB and Ethernet interfaces that facilitate quick data transfer, printing, LIMS integration, and remote control and service.