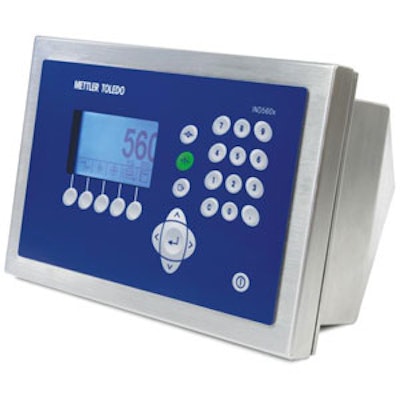 Mettler Toledo's intrinsically safe harsh/analog IND560x weighing terminal is now available with an external NiMH battery option. According to the company, the IND560x-PAB (Power Adapter Board):
Offers greater portability and flexibility in potentially hazardous production environments, while ensuring excellent accuracy.

 

Is designed for exacting process control in filling, dosing, and manual weighing operations.

Features optional internal solid-state discrete inputs and passive outputs, which offer direct control of the intrinsically safe solenoids.

Has a 366 Hz analog-to-digital conversion rate and 50 Hz target update rate, which help deliver maximum filling and dosing control for consistent and safe formulation in high-speed, automatic production applications, making it one of the fastest weighing terminals on the market.

Triggers process control actions in just 20 milliseconds.

Is capable of running custom filling and dosing applications developed using the company's Task Expert™ programming tool.

 

Offers an enclosure certified for IP69K ingress protection, which ensures reliable operation in even the harshest industrial environments.

Has an intrinsically safe serial port that allows direct communications connection to devices, such as approved bar code readers.

Features fiber-optic or copper wire connections to communication modules in the safe area that provide nearly limitless configuration possibilities when integrating the IND560x to a higher level PLC, DCS, MES, or MRP system.

Is available with optional software pacs that offer advanced application-specific capabilities for filling, vehicle weighing, and custom communications.

Features TraxEMT™ (Embedded Maintenance Technician), which automatically logs critical system information and aids in the terminal's compliance with stringent process validation requirements.