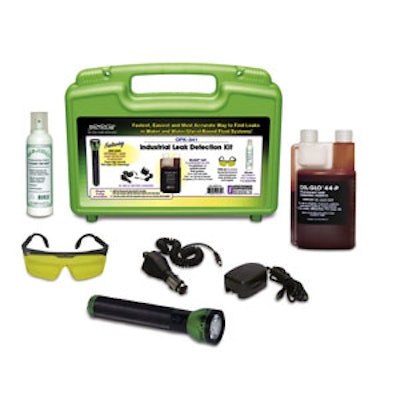 Spectronics Corp. introduces its OPK-341 industrial leak detection kit, an effective and efficient way to pinpoint the exact source of all fluid leaks in hydraulic equipment, compressors, engines, gearboxes, fuel, and other synthetic and petroleum-based industrial systems. Furthermore, according to the company, the kit is highlighted by:
The OPTIMAX™ 3000 — a cordless, rechargeable, blue light LED inspection flashlight that's 15 times brighter than regular LED flashlights and has an inspection range up to 20 feet (6.1 m).

 

A 16-ounce (473-mL) twin-neck bottle of patented OIL-GLO™ 44 concentrated fluorescent oil dye, which is compatible with all synthetic and petroleum-based fluids.

 

 

The power of the oil dye to glow brightly (when a leaking industrial system is scanned with the OPTIMAX™ 3000 flashlight) to reveal the precise location of each leak every time.
An LED life of 50,000 hours, powered by a rechargeable NiMH battery.
An 8-ounce (237 mL) spray bottle of GLO-AWAY™ dye cleaner.
Fluorescence-enhancing glasses.

 

Smart AC and DC chargers.
A rugged case to protect all kit components.