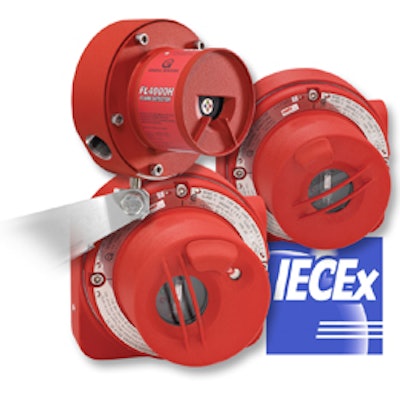 A majority of General Monitors' flame detectors are now IECEx approved for hazardous monitoring in a wide range of industrial processes. The certification applies to the following models:
FL4000H — an advanced multi-spectrum infrared (MSIR) flame detector designed to provide superior false alarm immunity with the widest field of view.
FL3100H — designed to detect hydrocarbon and hydrogen fires by monitoring in both the ultraviolet (UV) and infrared (IR) spectra, making it highly immune to false alarms.
FL3101H — a UV flame detector designed to detect fires and provide alarm outputs directly from the detector while maintaining false alarm immunity.
FL3102 — an IR flame detector that detects radiation from the infrared (IR) spectral region of a flame, making it highly immune to false alarms caused by lightning, arc welding, hot objects and other sources of radiation.
[email protected]
www.generalmonitors.com/products/flame_detectors.html