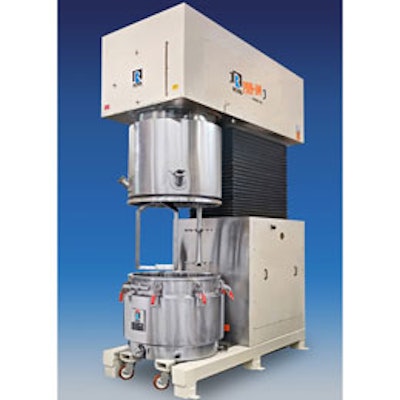 Ross recently introduced the Sanitary PowerMix model PD-100 for the development of viscous pharmaceutical, cosmetic and food products requiring a combination of slow and high-speed agitation. The PowerMix:
Combines a low-speed planetary stirrer with a conventional high-speed disperser.

Has agitators that revolve on their own axis while at the same time on a common axis.

Features a high-speed blade that provides an internal shearing action and a planetary stirrer to continually move material into the blade.

Is constructed in stainless steel to enable easy cleaning between batches.

Includes a jacketed mix vessel mounted on non-sparking caster wheels, a specially designed and machined vacuum hood enclosure and openings for charging of raw materials.

Internal pressure operation is also available up to 15 psi.

Is available in sizes from 1/2 gallon to 750 gallons working capacity.