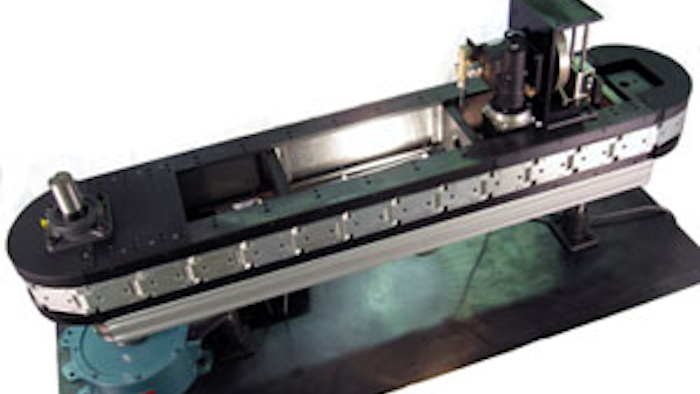 DE-STA-CO's CAMCO® modular tabletop precision link conveyors enable you to conceptualize, design, build and deliver automation systems quickly—providing you with the utmost in material-handling flexibility. According to the company, these assembled-to-order conveyors incorporate:
An overall conveyor width of approximately 13.5 in. with 3-, 4.5- and 6-in. links.
Standard pre-manufactured components for quick delivery times.
The capacity for up to 400 workstations.
A pattern of tapped holes along the length of the conveyor to
receive custom or standard tooling plates.
Station-to-station index times of as little as 0.25 s.
A positioning accuracy of up to ±0.001 in. 
The capability to be built to any length from 3 to 30 ft.
Standard incremental lengths of 18 in. per module (with a minimum straightaway length of 18 in.), plus 18-in. drive and take-up ends.
An open backbone to allow electrical, pneumatic or mechanical components to pass through the conveyor.
Optional central and offset jackshafts.
cs-automation@destaco.com
www.destaco.com