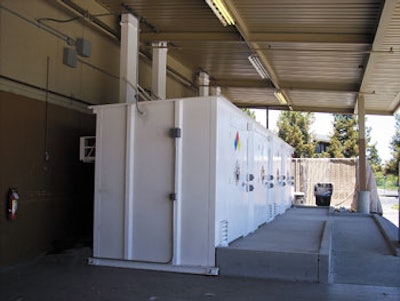 Complexities involved with the management of handling and storing multiple chemicals are simplified within a multi-sectioned hazardous material containment system from Safety Storage Inc. Allowing for the preparation and storage of non-compatible materials, the system, according to the company, exhibits:
Suitability for acids and corrosives, volatiles and inactives, or the segregation of chemicals by unique temperature requirements within a single structure. 
Specially engineered and designed separate-access compartments to meet both code
requirements and user-handling needs. 
Optional restricted entry access, individual heating or cooling systems, and other custom accessories for situations in which greater control of individual compartments is required.  
Individual secondary containment sumps and natural ventilation supplied for each chamber.
A non-combustible steel composition and reduced footprint.
Configurability within a 2- or 4-hour fireshield system. 
The flexibility to customize pallet storage or rack shelving systems, or workspace areas.