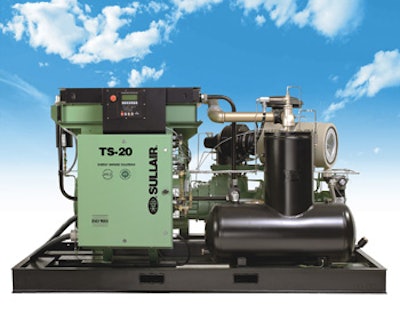 Sullair Corporation has redesigned its 100 to 600 HP two-stage tandem rotary screw compressors to provide increased levels of energy efficiency and operating performance. The compressors also offer:
Variable capacity control, featuring spiral valve technology.
A choice of either constant speed drive models TS-20, TS-32 and TS-32S, with capacities of 500 to 3000 acfm, or Variable Speed Drive (VSD) models V-200TS and V-320TS, which have a capacity range of 495 to 2310 acfm.
Pressures range of 100 to 175 psig.
Optional heat recovery enclosure.
Multi-stage air fluid separation with a dual nested Optimizer™ separator element to minimize fluid carryover.