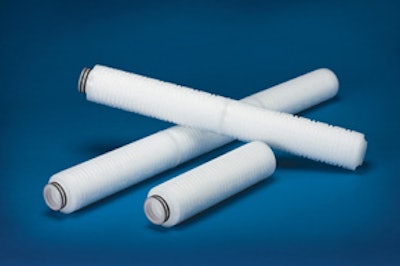 W. L. Gore & Associates has applied its PTFE technology to a family of hydrophobic filters for the manufacture of bulk high-purity chemicals used in semiconductor and electronics fabrication. The company believes that these filters also furnish:
Up to a 200 percent improvement in flow over comparable filters with the same retention rating.
The ability to increase process capacity and decrease the amount of required filters.
Accommodations for high-viscosity fluids, acids, bases, solvents, specialty chemicals and other high-purity chemicals in high-throughput filling, packaging and recirculation systems.
Availability in a pore size rating from 0.1 to 0.03 µm.
Suitability as a drop-in retention upgrade to maintain system flow capacity.