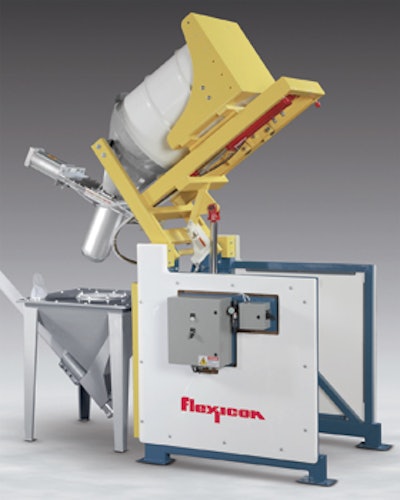 Flexicon recently released its TIP-TITE™ drum dumper that seals drums against a discharge cone, tips the drum, mates the cone against a gasketed connection and discharges bulk material dust-free through a slide gate valve. According to the company, the TIP-TITE is also highlighted by:
A pneumatically actuated slide gate valve that prevents material flow until the discharge cone has been properly seated in the gasketted receiving ring.
A dust-tight seal between the rim of a drum and the underside of the discharge cone.
A single hydraulic cylinder to raise the drum platform.
A second hydraulic cylinder to tip the platform-hood assembly and drum, stopping at dump angles of 45°, 60° or 90° with a motion-dampening feature.
The accommodation of drums from 30 to 55 gallons (114 to 208 liters). 
Mating of the vertically oriented cone with a gasketed inlet port fitted to the lid of an optional hopper with an integral flexible screw conveyor, a pneumatic pick-up adapter or to existing process equipment.
A mild steel drum dumper with durable industrial finishes and stainless steel material contact surfaces, or all stainless steel construction finished to food, dairy, pharmaceutical or industrial standards.
sales@flexicon.com
www.flexicon.com