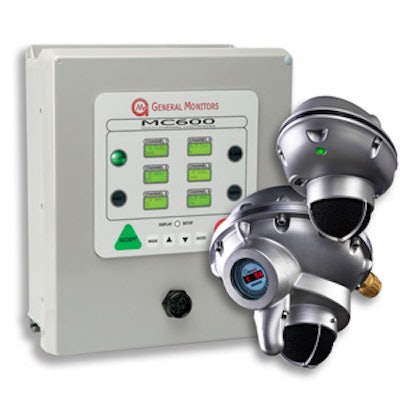 General Monitors has combined its Gassonic detectors with a modular six-channel MC600 Controller to create an integrated ultrasonic gas leak detection system. Ultrasonic gas leak detectors respond to the ultrasonic noise generated by escaping gas at pressures of minimum 145 psi for maximum coverage of 5–20 m in radius, regardless of ventilation rates, gas dilution, or the direction of the leak — and without the gas having to make physical contact with a sensor element. Features of the system include:
Stainless steel microphone.
Senssonic™ integrated acoustic self-test, which periodically verifies the operation of the acoustic sensor.
C-UL and ATEX certifications.
SIL 1, 2 and 3 certifications.
MC600 Controller for up to six Gassonic detectors, which displays the SPL, alarm, warning and time delay settings for each device.
Reduced risk of fires and explosions.
etech@generalmonitors.com www.generalmonitors.com/products/ultrasonic_mc600.html