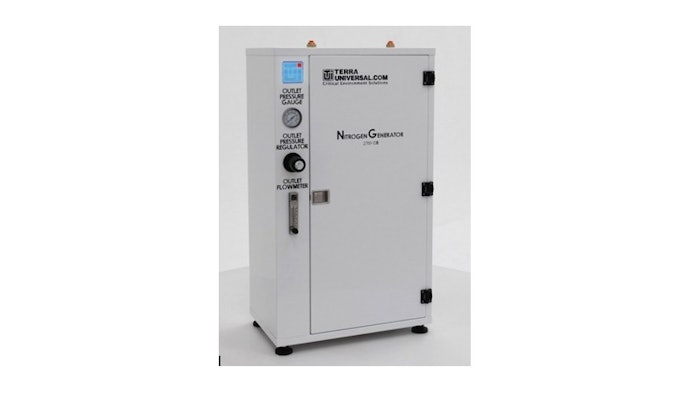 Fullerton, CA – Terra Universal, the leader in cleanrooms and controlled-environment equipment, offers nitrogen generators that feature a state-of-the-art hollow-fiber membrane, producing dry nitrogen up to 99.5% pure. Choose among three sizes and four flow ranges to make these in-house nitrogen generators suitable for laboratory storage or process applications using desiccators, gloveboxes and other equipment. Depending on gas purity requirements, these generators can deliver up to 400 standard cubic feet per hour (SCFH).
As compressed air flows through the semipermeable membrane module, hollow fibers separate water vapor and oxygen from nitrogen. Since the nitrogen generator has no mechanical parts and consumes no electricity, it's an economical solution to renting nitrogen tanks. Use the generators' low-pressure alarm to help simplify trouble-shooting and maintenance.
Terra Universal has 40 years of experience manufacturing low-humidity storage and other critical environment enclosures. For more information about Terra's Nitrogen Generators, visit Terra's website.