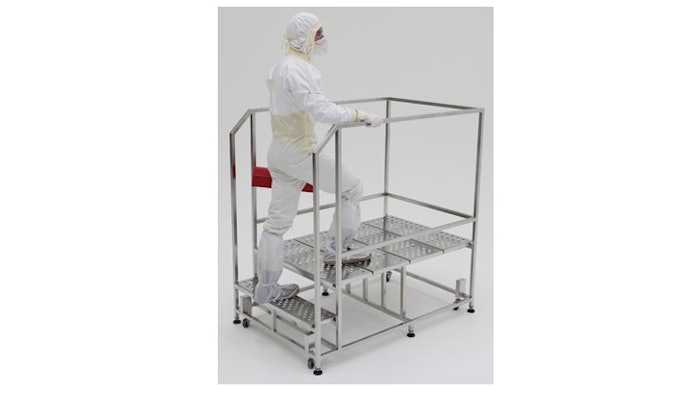 Fullerton, CA – Terra Universal introduces BioSafe electropolished stainless steel cleanroom step-stairs with spacious work platform. When performing maintenance or repairs in the cleanroom, the stairs help personnel access hard-to-reach equipment such as ceiling modules or hoods. The step depth of these stairs makes them easier to climb than ladders, particularly when carrying tools or supplies; workers safely maintain balance and stability.
A platform at the top of the stairs is designed for comfortable standing, as well as a work surface for tools and parts. The stairs feature side safety handrails, which extend around the work platform. These rails are at a comfortable 30-inch height for easy gripping.
Electropolished stainless steel is treated to make it cleaner and smoother than other steel. Disinfecting wipe-downs are easy, and the steel resists damage from common chemicals. The material is compatible with ISO 4 cleanrooms. Perforated horizontal surfaces (stairs and work platform) encourage laminar air flow, as well as provide a slip-free walking area. The reduced surface area discourages particle build-up. Sprint-loaded stainless steel casters make the stairs easy to relocate, but retract when weight is applied.
Terra Universal has 40 years of experience manufacturing critical-environment furnishings used for equipment maintenance in cleanrooms. Visit the Terra Universal, Inc. website for more information about their Biosafe Cleanroom Stairs with Work Platform.