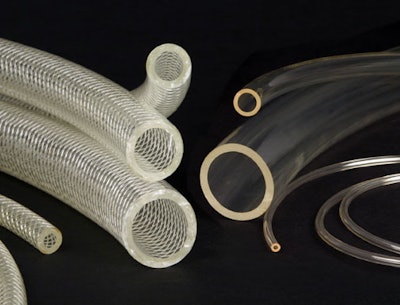 Tubing and hose manufacturer NewAge Industries is pleased to note that its durable polyurethane tubing and reinforced hose are now forty years old. Introduced in 1975, Superthane(R) tubing and Urebrade(R) hose have been used in numerous industries for fluid flow, gas transfer and protective jacketing.

Because of its natural flexibility and oil resistance, Superthane quickly found use in applications such as fuel and grease lines, oxygen transfer, control instrumentation, robotics and cable jacketing. Those uses still apply after four decades.

Urebrade, the company's braid reinforced version of the product, was launched at the same time. It performs similarly but with the added ability to handle higher pressure applications. It, too, manages petroleum product transfer, air and gas conveyance and protective coverings, as well as low-pressure hydraulics, slurries and granular transfer.

"These two items have always been major product lines for NewAge," stated Ken Baker, CEO of the 60-year-old corporation. "Polyurethane is unique because it offers some of the best qualities of plastic and of rubber, making Superthane and Urebrade problem solvers for a lot of applications."

Polyurethane provides abrasion and tear resistance, high tensile and elongation values, and low compression set. It is naturally flexible and exhibits virtually unlimited flexural abilities. Additionally, polyurethane combines good chemical resistance with excellent weathering characteristics, setting it apart from most other thermoplastics.

Manufactured at the company's headquarters in Southampton, Pennsylvania, Superthane is stocked in both ether and ester formulations; Urebrade is available in ether formulation. Both products offer:

- Non-toxic ingredients conforming to FDA standards
- Transparency, flexibility, durability
- Resistance to weathering, tearing, impact, radiation and abrasion
- A wide range of temperature resistance: -85°F to 185°F (ester), to 175°F (ether)
- Ether-based raw material is listed by the National Sanitation Foundation (NSF 61) for use with potable water
- No plasticizer which could cause flow contamination or tube hardening
- RoHS compliant; conflict mineral free
- Ester-based material is also REACH compliant

NewAge also manufactures polyurethane tubing called Superthane Pneumatic specifically for air instrumentation applications. It is offered in eight colors for easy line identification, and like the company's other polyurethane products, is naturally flexible and resists weathering, kinking, abrasion and radiation exposure.

For more information on Superthane polyurethane tubing or Urebrade reinforced polyurethane hose, contact the Fluid Transfer Specialists(R) at NewAge Industries, Inc., 145 James Way, Southampton, PA 18966; phone 800-506-3924 or 215-526-2300; fax 800-837-1856 or 215-526-2190; e-mail: [email protected]; or visit these product-specific web pages: http://www.newageindustries.com/superthane-polyurethane-tubing.asp and http://www.newageindustries.com/urebrade-polyurethane-hose.asp.

About NewAge Industries
In business since 1954, NewAge Industries manufactures plastic and rubber tubing in both reinforced and unreinforced styles. The company offers an overall product quality rating of 99.8%, provides custom extrusion and fabrication capabilities, and services customers worldwide. NewAge Industries maintains a large inventory and prides itself on same-day shipment of 99% of orders for its core product lines. In 2006, NewAge initiated an ESOP (Employee Stock Ownership Plan) for the benefit of both its employees and customers.

The AdvantaPure(R) division of NewAge Industries is ISO 9001:2008 certified and specializes in high purity tubing, hose, single use process manifolds and systems, and other molded components for the pharmaceutical, biomedical, food, beverage, and chemical industries. All products are manufactured, stored, and shipped using the cleanest methods possible to ensure unsurpassed product purity. Automated product identification systems, including gamma stable RFID tags and labels, are offered by NewAge's Verigenics(R) division.

# # #

Superthane(R), Urebrade(R), NewAge(R), NewAge Industries AdvantaPure(R), Verigenics(R), and "Fluid Transfer Specialists(R)" are registered trademarks of NewAge(R) Industries, Inc.