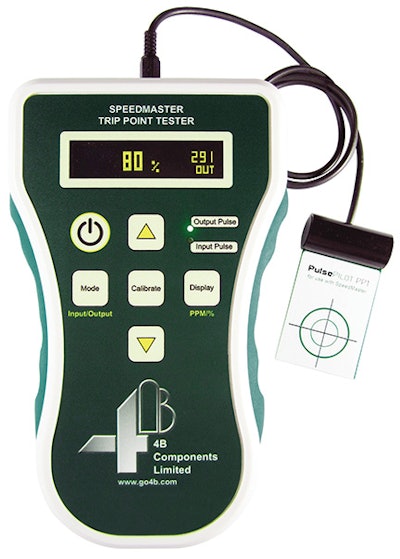 The SpeedMaster™ with Pulse Pilot is the only device that provides independent, real time, and complete verification of an entire speed monitoring system to ensure that alarms and shutdowns are working as expected.

The SpeedMaster™ operates in two modes; input mode provides the device with the machine's actual running speed, and output mode allows the device to test the speed switch at set underspeed trip points for real time verification of the monitoring system's alarm and shutdown functions. There is no need to remove the sensor from the machine shaft or change any system connections in order to use the SpeedMaster™. Maintenance and safety personnel can now quickly, easily and accurately test speed switches during periodic inspection schedules, and help the facility fully comply with insurance audits and OSHA 29 CFR 1910.272.

The latest version incorporates a new ergonomic housing making it easier to handle, even with bulky work gloves. A new OLED display uses less battery power for longer lasting performance, and provides a brighter display for easier viewing in sunny conditions.

"This latest version of the SpeedMaster™ completes the speed monitoring puzzle. Our new patented testing device will give plants the ability to verify that their speed sensors and systems are working accurately, as well as making sure that PLC's are programmed correctly and therefor making underspeed motion monitoring systems even safer." - Johnny Wheat, 4B President

Check out the product video - http://www.go4b.com/speedmaster/ for more information on how the SpeedMaster™ can benefit your facility.