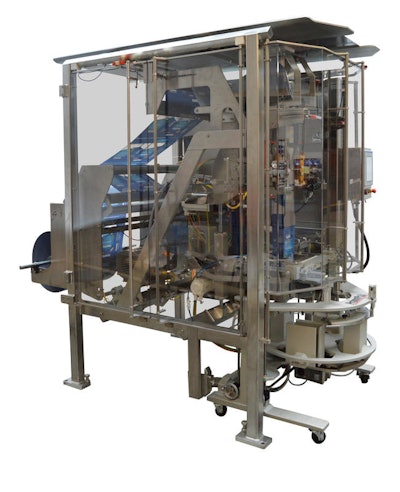 The Triangle PrimaPak® Continuous Motion Vertical Bagging Machine (Model XYT15) features a patented PrimaPak® System Interface producing the industry's first flexible, stackable, reclosable package developed to replace rigid cans, bottles, jars, trays, and dysfunctional stand-up-pouches.

Designed for food and consumer packaged goods products, the Model XYT15 Continuous Motion Vertical Form-Fill-Seal (VFFS) Bagger performs at faster operating speeds up to 100 bags per minute, depending on the package size.

The PrimaPak® System can deliver seven types of different opening and closing designs depending on the application requirement. These designs generate consumer-friendly packaging that is easy to handle and use, portable, easy to open and resealable. The opening and closing features are incorporated into the PrimaPak® rollstock. Applications for the PrimaPak® technology include confectionery and snack products, cereal, coffee, detergent pods, pet food, cheese and produce.

Technically advanced and operator friendly, the new Triangle PrimaPak® VFFS Bagging Machine offers these key features:
* Quick and easy changeover of sealing jaws, forming tubes and backseal
* Runs multiple package styles on the same machine
* Intuitive operator controls
* Pivoting control box for easy access
* Ultra-sanitary design for quick and easy cleaning
* Rugged, durable machine design

The PrimaPak® System was developed to remove excessive packaging waste from the supply chain. Produced from flexible rollstock, the PrimaPak® package uses up to 70 percent less plastic compared to Polyethylene Terephthalate (PET) cans, bottles, jars, or trays. This translates into less weight leading to tangible cost and fuel savings and reducing greenhouse gas emissions.

Triangle and Clear Lam recently entered into a North American equipment manufacturing licensing agreement giving the equipment supplier a license to manufacture and supply the PrimaPak® Interface on its Vertical-Form-Fill-Seal (VFFS) Bagging Machine.

To learn more about the PrimaPak® technology, Clear Lam Packaging, and Triangle Package Machinery Co., visit www.clearlam.com, www.primapaksystems.com and www.trianglepackage.com.