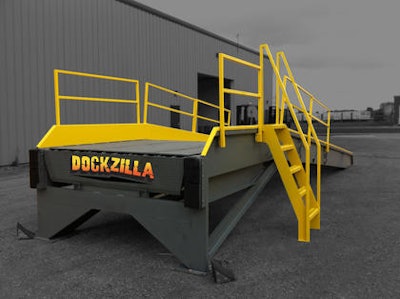 MINNETONKA, Minn. -- Leum Engineering is heating up the loading dock industry with the official launch of the Dockzilla™ family of mobile yard ramps and portable loading docks. Designed with exclusive ergonomic and employee safety features that meet or exceed OSHA loading dock requirements, Dockzilla mobile and fixed position products increase productivity by up to 80 percent over manual loading/unloading. Eliminating the construction expense and hassle of installing a permanent loading dock, these colossal, yet maneuverable workhorses can be relocated to other projects or when a business moves.
From factory to farm, the army of Dockzilla products is ideal for numerous applications industries, and settings – including companies leasing their facilities, seasonal businesses, Fortune 500 manufacturers and retailers with multiple distribution sites, and businesses in industrial parks and warehousing districts. Available in multiple configurations to tackle projects from typical to extreme, the Dockzilla product line includes mobile yard ramps, impactable yard ramps, portable loading docks, dock to ground ramps, self-standing platforms, cross-docks, and custom alternatives to permanent loading dock construction.
"Dockzilla products are engineered to handle the heavy lifting, whether customers are simply unloading a van with a hand cart or unloading massive 30-ton bulldozers," says Grant Leum, president of Minnetonka, Minn.-based Leum Engineering, Inc., which has 20 years of experience in loading dock design, and integrating trailer and forklift impact loads.
In 2013, when a devastating tornado wiped out traditional loading dock facilities in Perrysburg, Ohio, McCormick Equipment Company leased a Dockzilla-brand mobile yard ramp to help keep businesses afloat during the recovery. "The portable loading dock ramp ensured we could quickly move and warehouse remaining assets to avoid further expense and loss," says Brian Romp, industrial sales representative for McCormick Equipment Company. "Our company is excited about the potential for Dockzilla products, and we look forward to putting them to work in ways the industry has not yet explored."
Raising the bar for the loading dock industry, Dockzilla products are designed to handle the rigors of daily trailer unloading and forklift impact load force backed by a five-year standard warranty. The mobile yard ramps, the most versatile offering in the Dockzilla lineup, are equipped with patent-pending features that virtually eliminate human interaction and minimize employee effort:
Support Legs: Heavy-duty, adjustable safety support legs create a self-standing product that doesn't rely on a truck driver who could unexpectedly pull away.
Integral Dock Leveler: An integral dock leveler is hinged to float with trailer bed vertical movement, versus fixed lips that can cause forklift tire damage or dangerous bumps that the forklift would have to traverse over time and again.
Handrails and Wheel Chocks: Handrails keep employees safe on the elevated platforms and wheel chocks ensure trailers remain in place.
Automatic Kingpin Engagement: The exclusive ergonomic design includes automatic kingpin engagement that attaches a forklift to the ramp to eliminate any manual lifting.
Automatic Wheel Placement: Tapping the power of a forklift, automatic wheel placement ensures that minimal human effort and absolutely no hand pumping are required for engagement of these behemoths.
The Dockzilla brand of loading dock products is backed by a network of exclusive, in-market loading dock experts who provide local, on-site assistance and support across the U.S. Dockzilla products are available online at www.leumengineering.com or by calling Leum Engineering directly at 1-800-637-3036.
About Leum Engineering, Inc.
Leum Engineering (www.leumengineering.com) is fueling productivity and safety for companies across the U.S. Fortune 500 manufacturers from Ford Motor Company to FedEx have tapped the loading dock products company for solutions. Following 20 years of providing custom designs for traditional loading docks, Minnetonka, Minn.-based Leum Engineering is launching the DockzillaTMfamily of products, a new generation of portable loading dock ramps, mobile yard ramps, freestanding loading docks and cross-docks, ideal for established manufacturers, growing and seasonal businesses. The Dockzilla products are backed by an exclusive nationwide network of loading dock experts and manufactured in the USA.