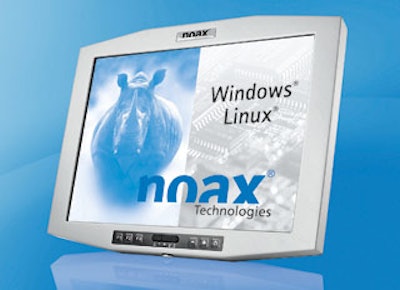 Charlotte, N.C. (Manufacturing.net) — N.C.-based noax Technologies AG has announced the addition of a 19" screen model to its line of industrial PCs. According to the company, this allows more convenient and more user-friendly use for operators, which leads to greater productivity. The C19 Compact IPC can control production processes, visualize process, capture machine or operating data and display work orders. With a SXGA resolution (1280x1024) and an LED-backlit TFT display, combined with a tough resistive touchscreen, the C19 allows buttons or control panels to be displayed larger, making data entry easier, even when the operator is wearing gloves. Additional features include:
Slots for expansion cards in the PCI, PCIe and mini-PCIe cards, plus a secured USB port on the front of the PC for transferring software update.

The NSetup tool to ensure that only authorized users can access various features and hardware.

Two Ethernet ports, integrated WLAN antennas and Bluetooth, plus programmable function keys for frequently-used functions.

A completely sealed construction to protection class IP65.
For more information, visit www.noax.com.