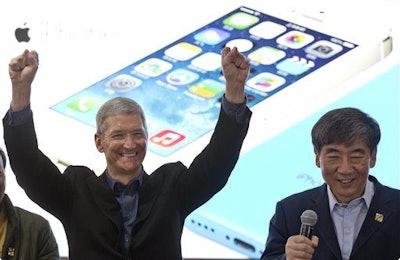 The simultaneous debut of the Apple Watch in the U.S. and China exemplifies the increasing importance of the world's most populous country to top American retailers, according to consulting firm Tompkins International.

Michael Zakkour, who leads the North Carolina supply chain firm's Asia/Pacific practice, added that an increasing emphasis on China will lead to improved profits, jobs and growth in the U.S.

"Chinese consumption will dramatically increase economic growth and activity in the U.S. over the next ten years," Zakkour said.

Zakkour said China currently has 1.2 billion active mobile handsets, an amount equivalent to four times the entire U.S. population. In addition, he said the market for "affordable luxury" products made by American companies includes about 800 million Chinese customers.

Zakkour added that about 25 percent of Apple's record fourth quarter stemmed from Chinese consumers -- largely due to the iPhone 6 -- and predicted the company's watch would also appeal to China's "nouveau riche."

Analysts reported strong early U.S. sales of the new wearable product that largely matched previous projections for overall sales. In China, meanwhile, vendors and online retailers began selling knockoff versions within days of Apple's watch announcement last month.