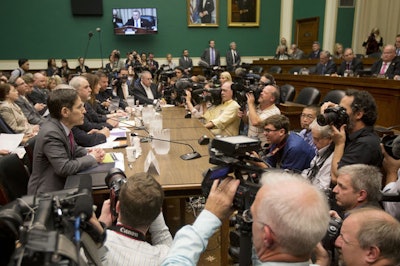 Tech industry representatives and business leaders last week encouraged Congress to use caution when attempting to address privacy concerns in the Internet of Things.

Lawmakers from both sides of the aisle focused on security issues at a House subcommittee hearing on IoT issues. Rep. Marsha Blackburn, R-Tennessee, said privacy was "top of mind" when discussing federal policy toward Internet-connected devices, while Rep. Frank Pallone, D-New Jersey, listed invasive data that could be acquired from a single fitness bracelet.

Panelists agreed with members that rapid IoT expansion presented a range of privacy and technological concerns, but they said Congress should focus on individual programs rather than the entire IoT.

Daniel Castro, vice president of the Information Technology and Innovation Foundation, said passing legislation to thwart potentially non-existent problems could hinder IoT innovations and subsequent economic benefits.

Brad Morehead, CEO of home security company LiveWatch Security, argued lawmakers could face difficulty in regulating many different IoT privacy models that could emerge in coming years. An estimated 5 billion devices will connect to the Internet this year, but GE anticipates that number will grow to 50 billion within five years.

The panelists, however, also said Congress should focus on data breach rules when crafting IoT policy. Castro and Intel Corp. IoT official Rose Schooler said a national IoT plan with relatively light regulations would create a consistent platform for both industry and consumers.

Brian van Harlingen, chief technology officer of Belkin International, added that Congress should collaborate with the IoT industry on future telecommunications capacity needs.