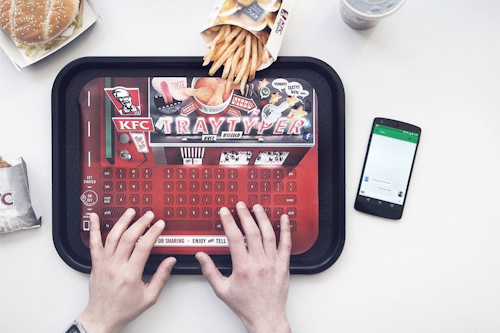 This edition looks at iPhone 6 numbers, KFC's keyboard placemat and changes coming to Outlook.
iPhone 6
It turns out that iPhone 6 sales are missing the mark with one group of consumers. According to a Business Insider report, Apple customers are not the main buyers of the iPhone 6. Rather, all the non-Apple customers are.
Apple normally sells a lot of phones right after a new phone launch. Those sales then tend to die off a few months later as the Apple customer base is fully penetrated. This time around though, that hasn't happened:
Only 20 percent of the existing iPhone user base has upgraded to iPhone 6 and 6 Plus.
About 50 percent of iPhone 6 / 6 Plus customers are first-time iPhone users who switched from other brands, mostly Android.
A note from UBS analyst Steven Milunovich on Monday says iPhone retains about 80 percent of its customers through each sales cycle:
Apple's retention rate has dropped a bit from 84 percent to 78 percent. We will watch this but are not too concerned, because Apple is seeing increased switching away from competitors and is the only vendor that can expect a net inflow of customers. About one-third of switchers are coming from Samsung.
KFC Tray Typer
Coming to terms with the digital age, KFC restaurants in Germany are offering a solution to staying in touch while in the midst of finger-licking activities. As part of an advertising campaign, The KFC Tray Typer is a super-thin, rechargeable Bluetooth keyboard that comes on your food tray, connects to your smartphone and lets you text on your phone.
It appears that the keyboards are durable enough to be wiped down and reused, but the trays were so popular that every single one was taken home by customers.
This isn't the company's first foray into electronics. Last year, KFC in Japan launched a keyboard, mouse and USB stick combo — all in the shape of fried chicken.
Outlook.com
Microsoft will be migrating its Outlook.com email service over to Office 365 soon with a new interface and features including 13 new themes. The new look and feel will be more closely aligned with the upcoming desktop and Windows 10 versions of the Outlook application.
As you can see in the video below, most of the new features are centered around email working for you and not the other way around: