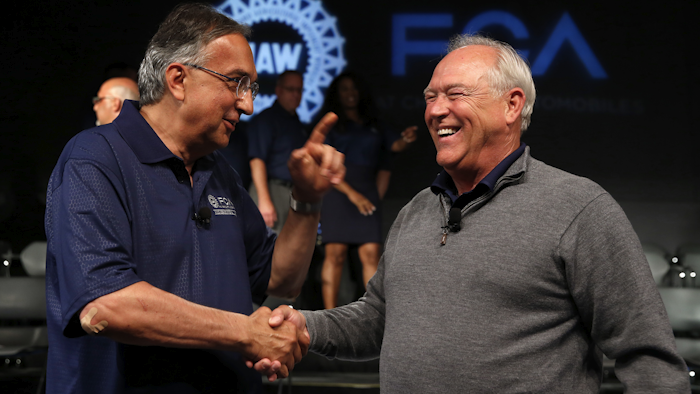 DETROIT (AP) — The United Auto Workers union appears likely to approve a new four-year contract with Fiat Chrysler.
Official vote totals aren't expected until later Thursday, but workers at several factories have overwhelmingly approved the deal in voting that ended Wednesday night.
It's the second time in a month that Fiat Chrysler's 40,000 union members at 23 U.S. factories voted on a contract. A previous deal was soundly rejected largely because it didn't eliminate a much-hated two-tiered pay system.
A union local in Belvidere, Illinois, with 4,200 workers voted 81 percent in favor of the new deal, according to its website. The plant makes the Dodge Dart compact car. Also, 84 percent of production workers at a metal stamping plant in Sterling Heights, Michigan, north of Detroit also voted yes. Skilled trades workers at the plant voted 64 percent in favor, according to postings on the union website.
The new agreement gives raises to all workers and eliminates the two tiers over eight years.
If approved, the union will use the Fiat Chrysler deal as a template for talks with Ford and General Motors. It was unclear Thursday whether the union would pick one company to focus on or try to negotiate with both.
UAW President Dennis Williams says Ford and GM make more money and should be able to pay more, a statement that conflicts with company goals of cutting labor costs to bring them more in line with foreign automakers with U.S. factories.
The new agreement with Fiat Chrysler would gradually eliminate the tiered pay system that the union agreed to in 2007 when all three Detroit automakers were in financial trouble, bringing all U.S. factory workers to the same wage over eight years. But members have resented the varying pay, and the company's current CEO, Sergio Marchionne — who took over when Chrysler merged with Italian automaker Fiat in 2009 — has called the two-tier wages "unsustainable."
Under the new agreement, workers with four or more years of experience would make the top $29 hourly wage within four years; workers with less experience would make between $22.50 and $28 in four years and top wages in eight years.
About 45 percent of FCA's U.S. hourly workers are lower-tiered workers who now make wages as low as $15.78 per hour. For a typical member with two years in, the UAW said the agreement is worth $44,000 over four years.
Like the previous agreement, the new contract promises the first raises in nine years for the highest-paid workers, who now start at $28 per hour. Top-tier workers will get a $4,000 bonus if the agreement is ratified; lower-tier workers will get $3,000. The previous contract promised $3,000 bonuses for all workers.
Workers from both tiers banded together to defeat the previous contract, saying they deserved a bigger share of Fiat Chrysler's profits after giving up raises and bonuses when the company was struggling.
The new agreement calls for a $5.3 billion investment in U.S. plants, as the previous agreement did, but this time the UAW spelled out which plants would get that investment.