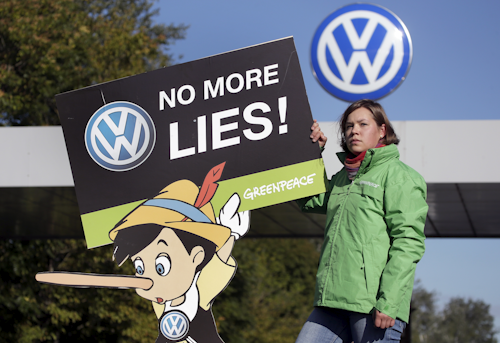 MADRID (AP) — The Spanish government will require the Volkswagen subsidiary SEAT to return subsidies it had received to produce "efficient vehicles," a top minister said Saturday.
Jose Manuel Soria, the minister of industry, energy and tourism, said he expected SEAT to tell his ministry how many vehicles it had produced and sold containing software that cheats on diesel engine emissions tests. He did not give a figure for the amount of money he expected SEAT to return.
Soria said the Volkswagen Group has given its assurances that it would maintain its investments in Spain and that the emissions scandal would "not affect the activity or employment" there.
In a statement Saturday, SEAT said it was appointing Luca de Meo as its new CEO and that Volkswagen Group's confidence was shown by its investment of 3.3 billion euros ($3.7 billion) for research-and-development facilities in Spain.
Volkswagen has admitted installing defeat devices on diesel engines that switch on pollution controls when the cars are being tested but turn them off when the cars are back on the road.
The U.S. Environmental Protection Agency said about 500,000 U.S. cars including the Jetta, Golf, Beetle, Passat and Audi A3 have the cheating software. Volkswagen says the Type EA 189 engines that contain the software are in some 11 million vehicles worldwide.
SEAT, which uses Volkswagen engines and has its headquarters in Barcelona, said it exports 80 percent of the vehicles it makes. The company said it brought in almost 7.5 billion euros ($8.4 billion) in 2014 "from worldwide sales of 390,500 units."
The SEAT Group said it employs 14,000 staff and has three production centers in northeast Spain, where it manufactures Ibiza and Leon models. In addition, SEAT produces the Alhambra in Portugal, the Toledo in the Czech Republic and the Mii in Slovakia.