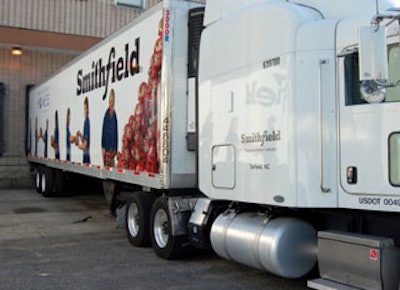 RICHMOND, Virginia (AP) -- The head of Smithfield Foods Inc. is trying to ease concerns that the proposed takeover of the world's largest pork producer by a Chinese company would pose risks to the U.S. food supply.
CEO Larry Pope testified Wednesday at a Senate Agriculture Committee hearing on the pending deal struck in May with Shuanghui International, China's largest meat producer. The plan, which is subject to federal and shareholder approvals, is expected to close later this year. It would be the largest takeover of a U.S. company by a Chinese firm, valued at about $7.1 billion including debt.
Committee Chairwoman Debbie Stabenow said the proposed purchase of the Smithfield, Virginia-based company raises many questions, including the impact on food safety and security. She also said the precedent-setting transaction prompts reservations about the government review process of foreign acquisitions of U.S. companies.
"Smithfield might be the first acquisition of a major food and agricultural company, but I doubt it will be the last," said Stabenow.
She asked the Treasury Department to include both the U.S. Department of Agriculture and the Food and Drug Administration in the government's review of the sale.
"In the short-term, I know this deal looks good for our producers ... One pork company alone might not be enough to affect our national security, but it's our job to be thinking about the big picture and the long-term for American food security and economic security," Stabenow added.
The proposed deal comes at a time when China has had serious food safety concerns, some of which have included Smithfield's suitor.
Pope reiterated that the takeover isn't about importing Chinese pork into the U.S. and is instead a chance to export into new markets with its brands, such as Smithfield, Armour and Farmland.
During his remarks to the committee, Pope also noted that the proposed buyout and China's growing demand for pork will be a boon for American agriculture and Smithfield's 46,000 employees in 25 states and four countries. It also owns more than 400 hog farms and has contracts with more than 2,000 family farmers across the U.S.
"There should be no noticeable impact on how we do business in America and around the world, except that we will do more of it," Pope said. "This is a wonderful opportunity for the U.S. to do what it does best, which is to produce agricultural products and ship those around the world."
He added that in turn would create jobs for American farmers to expand.
The pending deal comes as Chinese investment in U.S. firms, while still comparatively low, has risen sharply in recent years.
Daniel Slane, a commissoner on the U.S.-China Economic and Security Review Commission, told the committee that it's reasonable to expect a wave of Chinese investments into U.S. food and agriculture industry as "China becomes a global player and a fierce competitor in American markets." That panel was created by Congress to monitor bilateral economic relations and advise Congress and the executive branch on developments.
"This potential purchase is not a one off," Slane said in submitted testimony in which he warned it could be "Smithfield today" and others tomorrow or further down the road.
---
More from MBTMag.com
Meat Groups Sue USDA Over Meat Labeling Rule
U.S. Lawmakers Holding Hearing On Smithfield Deal
Canada Derailment Puts Tank Car In Spotlight
Explore more news here.