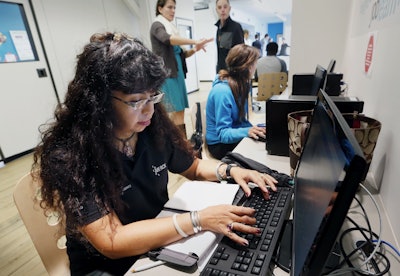 WASHINGTON (AP) — The number of people seeking unemployment benefits rose slightly last week, but remained at historically low levels that signal a strengthening job market.
Weekly applications increased 3,000 to a seasonally adjusted 287,000, the Labor Department said Thursday. The four-week average, a less volatile measure, declined 250 to 281,000, the lowest level in more than 14 years.
Applications are a proxy for layoffs and have fallen 20 percent in the past year. At the same time, hiring has picked up. Employers are adding jobs this year at the healthiest pace in eight years.
That is contributing to faster growth: The economy expanded at a solid annual rate of 3.5 percent in the July-September quarter, according to a separate government report Thursday. More business investment and exports, as well as a burst of government spending on defense, drove the increase.
Employers have added an average of 227,000 jobs a month this year, up from an average of 194,000 last year. The economy has gained 2.64 million jobs in the past 12 months, the best annual showing since April 2006. The unemployment rate has fallen to 5.9 percent, a six-year low.
The Federal Reserve cited the steadily improving labor market in its statement Wednesday. Partly as a result, the Fed also ended its two-year effort to stimulate growth by purchasing government bonds and mortgage-backed securities. Those purchases were intended to lower longer-term interest rates. It kept its benchmark short-term interest rate at nearly zero, where it has been for almost six years.
Despite the improved hiring, the job market is still not at full health. More than 7 million people hold part-time jobs but want full-time work, up from 4.6 million before the downturn. And there are still twice as many people unemployed for longer than six months as there were before the recession, even though that figure has steadily declined in the past three years.
---
More from MBTMag.com
Nigeria Sues Coca-Cola For Half-Filled Cans
Small Business Divided Over Minimum Wage Votes
Judge Orders Mediation In Guardrail Lawsuit
Explore more news

here

.