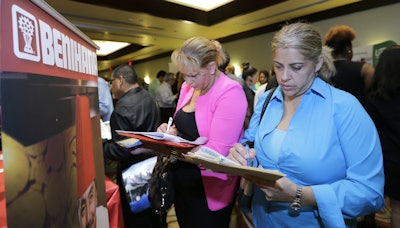 WASHINGTON (AP) — Fewer people applied for U.S. unemployment benefits last week, adding to signs that the job market should continue to improve.
The Labor Department said Thursday that weekly applications fell 10,000 to a seasonally adjusted 278,000. The four-week average, a less volatile measure, declined 2,250 to 279,000, the lowest level in more than 14 years.
Applications are a proxy for layoffs and have retreated 18.5 percent in the past year. This suggests rising economic confidence among businesses, leading them to keep their workers and potentially look to hire more employees.
The decline in applications has overlapped with stronger hiring this year.
Employers have added an average of 227,000 jobs a month in 2014, up from an average of 194,000 last year. Over the past 12 months, they have added 2.64 million jobs, the best showing since April 2006. The unemployment rate has fallen to 5.9 percent, a six-year low.
Economists predict that the Friday jobs report will show 230,000 new jobs in October. The unemployment rate is projected to hold steady.
Payroll processor ADP reported Wednesday that U.S. companies added 230,000 jobs in October. The result was the highest in four months and a sign that businesses are still willing to hire despite signs of slowing growth overseas. Job gains above 200,000 are usually enough to lower the unemployment rate.
In addition to the relatively low applications for benefits, the ADP report and gains in manufacturing sentiment tracked by the Institute for Supply Management also indicate strong hiring last month.
"I'd say all of these point to a solid nonfarm payroll report for October," said Jennifer Lee, a senior economist at BMO Capital Markets.
Still, the improvement in hiring has yet to translate into higher wages. Average wages have grown slightly faster than inflation. Median annual household income at $54,045 remains 4.6 percent lower than incomes when the recession began in late 2007, according to Sentier Research.
---
More from MBTMag.com
India To Foreign CEOs: 'We're Waiting For You'
Northern Irish Whiskey Bushmills Sold To Jose Cuervo
Circus Cited For Not Following Manufacturer's Instructions
Explore more news
here
.