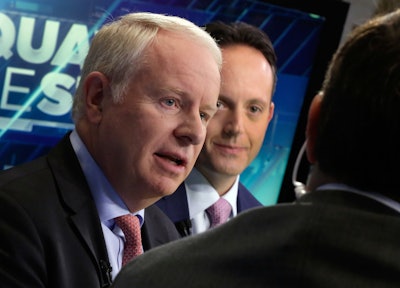 Actavis will pay $66 billion to buy fellow drugmaker Allergan in a deal that could finally end a months-long takeover push from Valeant Pharmaceuticals for the Botox maker.
Actavis said Monday that it will spend $219 in cash and stock for each share of Allergan.
Valeant said separately that the Actavis bid was a price it "cannot justify to its own shareholders."
The Canadian drugmaker went public with its offer for Allergan in April and had raised its bid at the end of May to $53 billion. That was valued at the time at about $179 in cash and stock.
Valeant's stock has climbed since it made that offer, so the deal would worth $183.39 per share based on Friday's closing price for Valeant.
Valeant Pharmaceuticals International Inc. partnered with the hedge fund and Allergan shareholder Pershing Square Capital Management on the bid.
Allergan Inc. resisted that deal for months, but its board has unanimously approved the Actavis offer, and Allergan management supports it as well.
"We are combining with a partner that is ideally suited to realize the full potential inherent in our franchise," Allergan Chairman and CEO David E.I. Pyott said in a statement from the companies.
Allergan had questioned Valeant's business model, which relies on acquisitions for growth, and its cost-cutting plans. Valeant has said it is committed to funding important research.
The companies have taken their takeover battle to federal court, and Allergan faces a Dec. 18 shareholder meeting at which its stock owners will have a chance to vote out most of its board. A federal judge decided earlier this month that Pershing Square can vote in that meeting, but Allergan has said it would appeal that decision.
In shunning Valeant, Allergan is favoring another drugmaker that leans heavily on acquisitions. In July, Actavis completed a $28 billion deal for fellow drugmaker Forest Laboratories. Last year, it bought Ireland's Warner Chilcott for $8.5 billion and moved its headquarters to Dublin from Parsippany, New Jersey. That came a year it merged with generic drugmaker Watson Pharmaceuticals.
Actavis PLC also announced another deal update on Monday. It said it completed its offer to buy all outstanding shares of Durata Therapeutics Inc. in a deal worth about $675 million.
Shares of Irvine, California-based Allergan jumped $11.41, or 5.7 percent, to $210.06 in midday trading Monday. The shares had started climbing hours before after several reports of a possible acquisition first surfaced. U.S.-traded shares of Actavis rose $4.96, or 2 percent, to $248.73, and Valeant shares rose 29 cents to $134.50.
---
More from MBTMag.com
U.S. Business Inventories Up 0.3 Percent
BlackBerry Expanding Its Mobile-Security Arsenal
SAP And Oracle To End Bitter Legal Battle
Explore more news

here

.