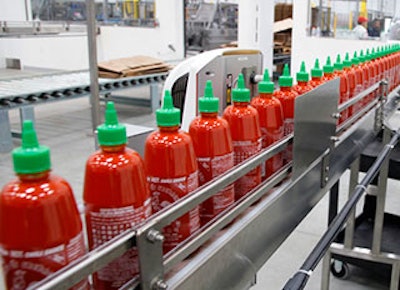 LOS ANGELES (AP) -- The Southern California-based maker of Sriracha has been told it can't ship any more of its popular hot sauce to food distributors until next month because the state Department of Public Health is enforcing stricter guidelines that require a 30-day hold on the product.
Huy Fong Foods began following those guidelines this week, operations manager Donna Lam told the Los Angeles Times. That means the latest batch of sauces won't arrive in stores and restaurants until mid-January.
Health department spokeswoman Anita Gore told The Associated Press on Wednesday that the 30-day hold is needed to "ensure an effective treatment of microorganisms present in the product."
"Holding products for a period of time at a specified pH level is one method of controlling those microorganisms," Gore said in an email. She added that Huy Fong got the order after state officials reviewed the way its sauces are produced. Companies using similar methods face the same requirements, she said.
The hold is the second setback for Huy Fong Foods in recent weeks.
The Los Angeles suburb of Irwindale is suing the company for filling its air with spicy odors that residents say make their eyes burn and take their breath away.
Last month, a judge ordered Huy Fong to stop producing the smells until air-quality experts can determine how to mitigate them.
The odors are only produced during pepper-grinding season, which extends from August until late October or early November.
Damon Chu of Asian food supplier Giant Union says the hold could prompt customers to switch to other brands of hot sauce. He also told the Times it could cost him as much as $300,000 in lost business, adding he has no supplies backlogged because Huy Fong ships the sauce as it's bottled.
"We have already received more than 30 angry phone calls today," he said. "It drives me crazy because this is the first time we have been in this situation."
Huy Fong's flaming hot Sriracha sauce, in its distinctive green-tipped squeeze bottle with a drawing of a rooster on the side, has become hugely popular in both Asia and the United States.
As demand increased, the company moved to a huge new production plant in Irwindale two years ago. As it ramped up pepper-grinding operations there this year, neighbors in the city of 1,400 people began to complain.
---
More from MBTMag.com
FDA Targets Antibiotics In Meat
Quick Sale In Fisker Bankruptcy Remains On Track
GOP, Obama Line Up Behind Modest Budget Deal
Explore more news

here

.