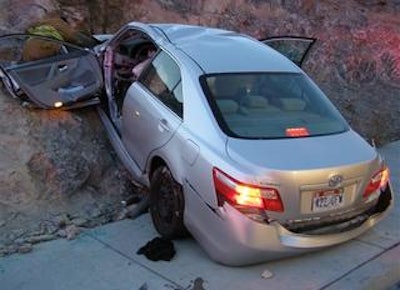 WASHINGTON (AP) -- Efforts to conceal the extent of dangerous car defects at Toyota Motor Corp. were so pervasive, prosecutors say, that an exasperated employee at one point warned that "someone will go to jail if lies are repeatedly told."
Yet no one has gone to jail, nor is likely to.
The Justice Department last week socked the car company with a $1.2 billion penalty but brought no criminal charges against individual executives, an unsatisfying resolution for consumer activists who say prison is the best deterrence for corporate malfeasance.
But prosecutors say they had little choice, in part because of constraints with evidence and the challenge of gathering testimony and information from witnesses outside the United States.
The same internal memos and public statements that buttressed the case against the corporation might well have been inadmissible as evidence against specific individuals. And it can be hard to prove that the person whose name is on a certain damning document was directly responsible for the misstatements or knew that they were wrong, legal experts say.
While the case against the company may be overwhelming, lodging personal responsibility for misstatements "is more difficult to prove beyond a reasonable doubt," said Stephen Saltzburg, a law professor at George Washington University.
Preet Bharara, the U.S. attorney for the Southern District of New York, whose office brought the case, told reporters last week that while he had not foreclosed the possibility of criminal charges against individuals, he expected the settlement to be the end of the matter.
When people who break the law live outside the country, "there are problems of evidence and problems of proof," Bharara said when asked about the prospect of prosecuting individuals at the company. Evidence and documents that can be brought into play against a corporation, he said, might not be admissible against specific people.
Toyota, which acknowledged hiding information about defects, said in a statement that in the four years since the recalls, it had "made fundamental changes to become a more responsive and customer-focused organization, and we are committed to continued improvements."
The penalty is the largest of its kind ever brought against an auto company, according to the Justice Department. The department also filed a wire fraud charge against Toyota that the government says it will dismiss in three years if the company complies with the terms of the settlement. Even so, some consumer advocates fear a monetary penalty alone generally doesn't do enough to scare executives at other companies from breaking the law.
"While $1.2 billion is an enormous number, it is going to be very easily absorbed by the company," said Jack Gillis, director of public affairs for the Consumer Federation of America, a consumer advocacy research and lobbying group. "So shouldn't there have been some personal culpability among the decision-makers?"
Court documents filed in the case accuse Toyota of intentionally withholding from consumers and regulators information about problems that could make some of its cars accelerate out of control. One such problem, involving ill-fitting floor mats, attracted negative attention for the company following a 2009 car crash in San Diego that killed a family of four.
Prosecutors say Toyota made public statements that were misleading or false and key information about the extent of the problems was never disclosed. For example, they point to an inaccurate timeline that the company provided to Congress on when it learned about a problem with sticky gas pedals that could cause unwanted acceleration. They also cite misleading disclosures to safety regulators and a 2009 online statement assuring the public that the "root cause" of one of the problems had been addressed.
When engineers found that the gas pedals could stick, they told their parts supplier to start making a redesigned version and to scrap any pedals with the old design. But management canceled the fix and instructed the engineers not to tell the supplier in writing so there would be no paper trail, a violation of Toyota's own policy, prosecutors said.
Under the federal rules of evidence, prosecutors would have had a better chance of introducing those statements as evidence against the corporation than against any one individual, legal experts say.
"They would have to pinpoint some individual who wrote those statements knowing they were false," said Paul Rothstein, a Georgetown University law professor. "That would be hard to do, even if they could pinpoint who actually composed the statement. That person might not have known it was false."
General Motors Co. is facing a separate federal criminal probe in New York over delays in recalling small cars with a deadly ignition switch problem. It's unclear whether any individuals are being investigated in that case or whether prosecutors would confront the same evidence problems if they wanted to charge specific people.
Associated Press writer Tom Krisher in Detroit contributed to this report.
---
More from MBTMag.com
Exports Soar In Washington With Boeing's Help
N.C. Company To Buy Bankrupt Peanut Plant
Europe Economic Recovery 'Gathering Speed'
Explore more news

here

.