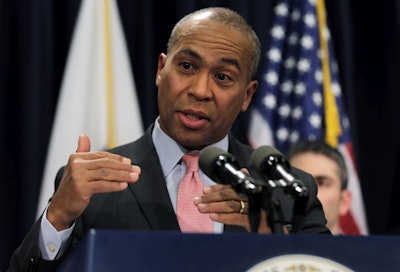 BOSTON (AP) -- Gov. Deval Patrick defended the state's first-in-the-nation ban of the powerful new painkiller Zohydro after a federal judge suggested in court that his administration may have overreached.
"I wouldn't have done it if I didn't think I had a legal footing to do it," Patrick said at an unrelated event at the Statehouse. "More to the point, I wouldn't have done it if I didn't think we had a real emergency, and we have a real emergency."
Patrick issued an executive order banning local doctors from prescribing or dispensing Zohydro on March 27, amid concerns that the drug's availability might exacerbate the state's prescription drug abuse epidemic.
But Zogenix, the San Diego-based maker of the drug, filed a federal lawsuit on Monday arguing that the ban was unconstitutional because the U.S. Food and Drug Administration has already approved its use for treatment of severe and chronic pain.
U.S. District Court Judge Rya Zobel, considering the lawsuit Tuesday, suggested Zogenix's arguments might have merit.
"I don't have all the facts," she said after hearing briefly from both sides. "At the moment, I think the governor is out of line on this. The federal drug administration has examined this issue, has dealt with all the objections to it, and is a federal entity."
Zobel said she will hear more detailed arguments Monday, after which she expects to render a decision on Zogenix's request for an immediate but temporary halt to the ban. The court would decide at a later date whether or not the ban should be permanently vacated.
Heather Gray, a legislative attorney with the National Alliance for Model State Drug Laws, says the Massachusetts ban is unique: it might be the first time a state has attempted to block distribution of a FDA-approved drug.
Vermont, which is also grappling with a prescription drug abuse epidemic, stopped short of an outright ban on Zohydro; Gov. Peter Shumlin's administration opted instead to release stricter guidelines for issuing prescriptions.
Patrick on Tuesday suggested that if the drug became available in a tamper-resistant, non-crushable form, Massachusetts might consider lifting the ban and approving tighter restrictions instead. Zohydro is "an example of highly addictive narcotic painkillers and it's one of the few that is not in an abuse-resistant form," Patrick said. "Put it in an abuse-resistant form and I and many others will make our peace with it."
Zohydro is an extended-release capsule that contains up to five times the amount of narcotic hydrocodone previously available in pills. The company says the drug, which went to market in March, is an important painkilling option because it does not contain acetaminophen, which has the potential to cause liver damage if given in high doses over long periods of time.
But some health authorities say the drug can be easily crushed and then snorted or injected, creating an immediate and potentially lethal high. Zogenix officials say at least four prescriptions for Zohydro were issued in Massachusetts, but were never filled because of the ban.
Associated Press writer Steve LeBlanc contributed to this report.
---
More from MBTMag.com
'Lemon Law King' Sues Tesla
FDA Defines Honey
IMF: World Economy Is Stronger But Faces Threats
Explore more news

here

.