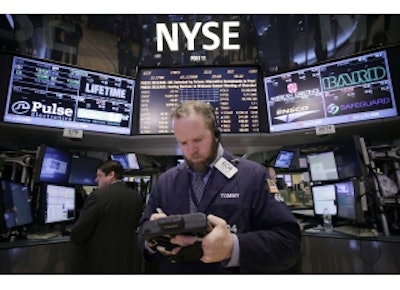 AMSTERDAM (AP) — Growing optimism over the U.S. economy helped shore up global markets Monday despite tensions in China's credit markets.
Germany's DAX and the main U.S. indexes all struck record highs, albeit on a day when trading was fairly muted as many traders were already off for the Christmas break. Stocks have enjoyed a strong run over the past few days, largely because of hopes over the state of the U.S. economy, the world's largest. Investors even took last week's decision by the Federal Reserve to start reducing its monetary stimulus in stride.
"Volumes may be thin, but sentiment is upbeat," said Brenda Kelly, senior market strategist at IG.
In Europe, Britain's FTSE 100 index closed up 1.1 percent to 6,678.61 while France's CAC 40 rose 0.5 percent to 4,215.29. Germany's DAX ended 0.9 higher at a new closing high of 9,488.82.
The main U.S. stock indexes also struck record highs too, buoyed further by the news that Apple has reached a deal to sell the iPhone to China's largest wireless carrier. The Dow Jones industrial average was up 0.6 percent at 16,310, while the broader S&P 500 index rose 0.6 percent to 1,829.
The decision last Wednesday by the Fed to reduce its financial asset purchases by $10 billion to $75 billion a month from January was predicated on rising signs that the U.S. economy was gaining traction. The run of economic indicators since has reinforced that perception.
Notably, figures Friday showed the U.S. grew at an annualized rate of 4.1 percent in the third quarter of the year, up from the previous estimate of 3.6 percent. The unexpected strength prompted International Monetary Fund chief Christine Lagarde to say the Washington D.C.-based institution would raise its 2014 U.S. growth forecast from the current estimate of 2.5 percent.
And on Monday, government figures showed a healthy 0.5 percent increase in consumer spending in November, providing further evidence that the U.S. is poised for a solid fourth quarter outcome too.
Earlier in Asia, China's Shanghai Composite rose 0.2 percent to 2,089.71 — its first gain in nine sessions — while Hong Kong's Hang Seng index rose 0.5 percent to 22,921.56. South Korea's KOSPI rose 0.7 percent to 1,996.89. Tokyo stock markets were closed for the Emperor's Birthday.
Stock markets have largely held their own despite tensions in China's credit markets. Even though the Chinese monetary authorities have injected more cash into the markets, the rate banks charge each other for 7-day loans spiked to 9.8 percent at one point Monday, up from 4.3 percent at the start of the month.
Analysts said the main reason why interbank lending rates have gone up is that Chinese banks are building up their cash reserves in order to meet tighter regulatory requirements. The increase has also come as the Fed has ended months of speculation and begun "tapering" its stimulus.
For now, most analysts don't think it's a major cause for concern but developments in China's credit matters will be monitored carefully over the coming days and weeks.
"This matters for China as it was a big recipient of Fed liquidity in recent years," said Kathleen Brooks, an analyst at Forex.com. "China is the world's second largest economy. If it looks vulnerable as we start the New Year then the rest of the world should be getting nervous."
If rates don't fall, then the fear would be that China experiences tougher credit conditions in the months ahead and that could potentially weigh on economic growth — one of the main pillars of the global economic recovery over the past few years.
Elsewhere, trading was fairly muted. In the currency markets, the euro was 0.2 percent stronger $1.3701 while the dollar rose 0.1 percent to 104.10 yen. In the oil markets, a barrel of benchmark crude was 34 cents lower at $98.98.
_____
AP Business writer Youkyung Lee contributed to this story from Seoul, South Korea