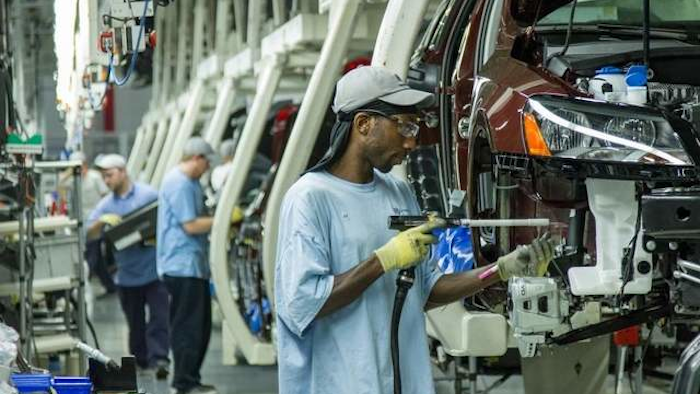 A new report from the Economic Policy Institute argues the relationship between U.S. automakers and the United Auto Workers union fueled the industry's transformation since the Great Recession.

The Washington, D.C.-based think tank primarily examines the UAW's cooperation with Ford Motor Company, which "helped the company move from near last in quality to best-in-class by 2010."

The analysis said that UAW helped Ford implement programs that utilized its entire workforce, including enabling hourly employees to head process improvement projects that resulted in substantial cost savings.

The changes also helped shift the company's safety priorities to prevention instead of passing inspections, according to the report.

In addition, authors Joel Cutcher-Gershenfeld, Dan Brooks, and Martin Mulloy credited new hour, wage and benefit flexibilities with steering the company through the near-collapse of the U.S. auto industry in 2008.

Although Ford lost about half of its hourly workers and nearly 40 percent of its salaried workers, the company reached voluntary separation agreements with all departing employees and saved $1.2 billion in warranty costs that year. The hourly changes now enable Ford to produce up to six vehicle models on each assembly line.

The report also cautioned against common assumptions that the auto industry's problems can be addressed through reducing labor costs and relaxing union work rules.

"While the financial industry was still reeling from the recession in 2008, the auto industry was well along on a transformational journey, in large part due to its partnership with the UAW," said Martin Mulloy, one of the study's authors and a former Ford labor affairs vice president.

The report comes as the UAW and the "Big Three" automakers prepare to enter negotiations over their next labor contract.

Ford and General Motors indicated they might seek a new wage tier below the agreement struck in 2007 for new employees. Union officials called for a general wage increase and a narrowing of the gap between the current wage tiers.

UAW chief Dennis Williams told members at their bargaining convention in March "they got too many damn tiers now." He conceded that Ford, GM and Fiat Chrysler must also manage their relatively high labor costs within a global economy.

"But make no doubt about it, they also know that as we share in the bad times, we must equally share in the good times," Williams said.