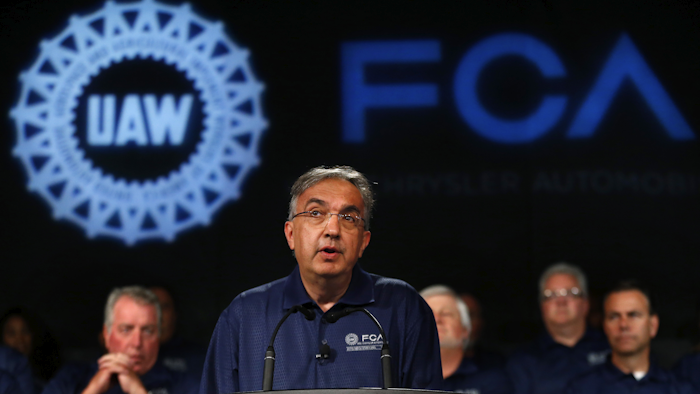 DETROIT (AP) — Fiat Chrysler CEO Sergio Marchionne and United Auto Workers President Dennis Williams agree on at least one thing: getting rid of the two-tier wages for hourly workers in the company's U.S. plants.
Marchionne and Williams formally opened bargaining a new four-year contract for FCA's 35,700 workers Tuesday. The current contract expires in September.
Among the major issues on the table is the tiered wage system in place at U.S. plants. The UAW agreed to allow lower pay for entry-level workers in 2007 when FCA — then Chrysler — General Motors and Ford were struggling. Entry-level workers now make up to $19.28 per hour; longtime workers make $29 per hour.
The disparity benefits FCA the most. Forty-five percent of FCA's U.S. hourly workers now make the lower wage because the company hired so many people after emerging from bankruptcy protection and joining Italian automaker Fiat SpA in 2009. Only around 20 percent of Ford and GM hourly workers make the lower wage.
Marchionne says people should get the same pay for the same work.
"We're going to try our darndest to try to close it up this time if we can," he said. "We owe it to our people. We need to design a career path for people who come into our business."
At the same time, he said, any agreement needs to keep FCA profitable. Williams agreed.
"We must be creative and we must be thoughtful. We still have to remain competitive and understand it's a global market," Williams said.
Both Marchionne and Williams hinted that profit-sharing bonuses — which have totaled $9,000 for FCA hourly workers over the life of the current contract — will remain. Williams said any agreement needs to ensure that members make a middle-class wage but with "flexible and variable pay."
Both Williams and Marchionne also said they would consider it a personal failure if the companies aren't able to reach an agreement and workers strike.
"We are committed to do the hard work to get an agreement that our members can truly be proud of, but also the company feels good about," Williams said.
FCA is seeing strong demand for its Jeep SUVs and Ram pickups. The company's U.S. revenue rose 10 percent in the first quarter as FCA sold more vehicles and charged higher prices. FCA's U.S. sales were up 6.1 percent in the first six months of this year, faster than the industry average.
Still, the company has struggled to rein in costs. FCA's operating margin for its U.S. operations is 3.3 percent, compared with 6.7 percent at Ford and 8.8 percent at GM.
Marchionne has been pushing for consolidation in the auto industry to cut skyrocketing product development costs. Earlier this year, he estimated FCA could save $2.7 billion to $5 billion annually by co-developing parts like engines and transmissions with another automaker. So far, no automaker has taken the bait.
Marchionne said Tuesday that consolidation would only happen with the consent of the UAW and would not necessitate factory layoffs.
"We would only embrace or engage in a discussion of this caliber if we felt comfortable it would be effective and beneficial to the combined workforce," he said.