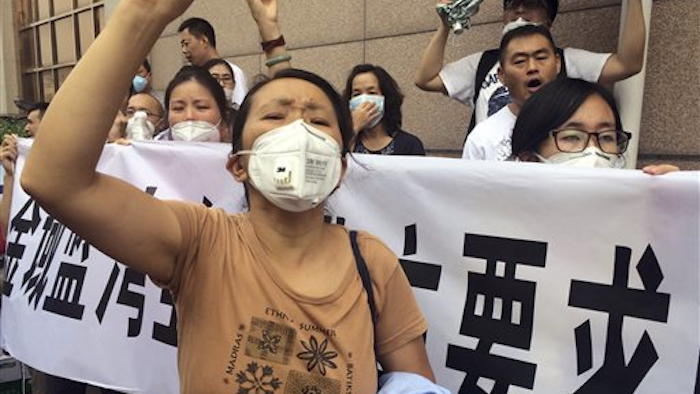 Massive explosions in one of China's largest cities could be the result of significant political corruption and safety loopholes in the country's chemical industry.
A warehouse storing hazardous chemicals in the port city of Tianjin exploded last week, killing at least 114 people and injuring hundreds more.
In the wake of the disaster, state media focused on warehouse owner Ruihai International Logistics Co.
Reports indicated that two prominent backers of Ruihai's founding in 2012 maintained strong political connections, which likely enabled the company to quickly turn an ordinary warehouse in close proximity to residences into a facility approved for chemical storage.
State media also said that Ruihai operated for months without proper government approval and stored far more than the legal limit of sodium cyanide in the Tianjin warehouse.
Sodium cyanide is used in chemical manufacturing, fumigation and the mining industry, but it is also highly toxic to humans and could form the deadly gas hydrogen cyanide in the presence of water or high temperatures.
Chinese authorities said that air and water near the blast site remain safe; officials previously acknowledged the presence of potassium nitrate, sodium nitrate and calcium carbide at the facility, the latter of which becomes highly explosive acetylene after reacting with water.
The government ordered a nationwide workplace safety check and detained at least 10 Ruihai officials in connection with the explosion, including Dong Shexuan, the son of Tianjin's former port police chief.
The Xinhua News Agency quoted Dong saying that an initial safety evaluation rejected Ruihai's plans for the warehouse and that another top executive vowed to get a different company to make the assessment.
"In the end, it was dealt with," Dong said, according to The Wall Street Journal.
The explosion, meanwhile, triggered calls for reform not just in chemical storage, but in a system widely believed to favor politically-connected individuals and families.
"Arresting people is not going to solve this problem," Zhang Ming of Beijing's Renmin University told The New York Times. "This is the time to push for the reform of China's political structure and let everyone be treated equally before the law."