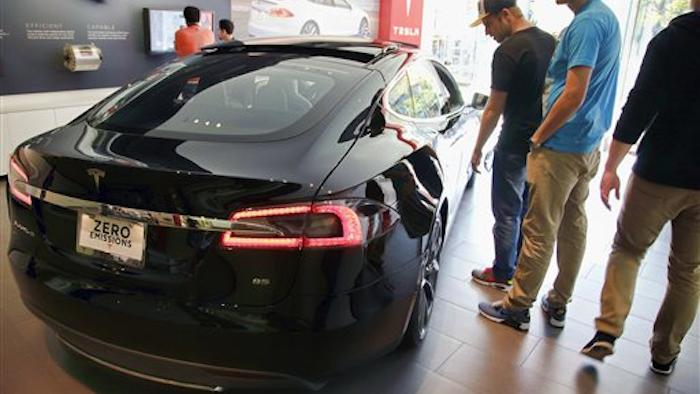 Phoenix, Arizona — Electric car manufacturer Tesla Motors has moved a step closer to selling vehicles directly to consumers at Arizona stores.
The state House Commerce Committee advanced a bill Wednesday that would allow carmakers to bypass dealers and sell directly to consumers if the company establishes a service center in the state. The committee approved House Bill 2216 on a 5-3 vote.
The committee's action came about a week after Gov. Doug Ducey sympathized with ride-hailing companies such as Uber and Lyft by dropping the state's efforts to enforce ride-for-hire regulations and calling their apps "innovative, entrepreneurial technologies."
Supporters say the move could signal that Ducey's administration is more receptive to helping business models such as Tesla's direct-to-consumer approach.
Traditional automakers and dealers oppose the bill.
Jim Norton, a representative for the Arizona Automotive Dealers Association, said passing the bill could disrupt the current system of car dealers that operate independently and provide service.
"What you are doing with this bill, is basically saying all those rules that have been developed over 100-plus years no longer apply to you," he said.
Others argued that the bill is special legislation for Tesla.
"Tesla is asking for a favor," said Republican Rep. Jay Lawrence, who opposed the measure.
Proponents say the bill will build on current laws to allow for new technology and innovation without disrupting existing industries.
"This bill is not designed to damage the existing system. It is designed to supplement what currently exists," said Barry Aarons, a lobbyist for TeslaMotors Inc.
He said the Palo Alto, California, company can't afford to sell cars at current prices or volumes through independent dealers.
The bill now goes to a second House committee.
If the bill becomes law, Tesla will be able to sell cars at its showroom in Scottsdale.
Currently, consumers can look at the cars in the showroom but can't test-drive them or discuss pricing. Customers that want to purchase a car have to go out of state or order one online.
"If I want to purchase a car from Tesla legally in Arizona, I can't do that," said Republican Rep. Warren Petersen, the bill's sponsor.
A similar bill passed the House last year but never made it out of the Senate.