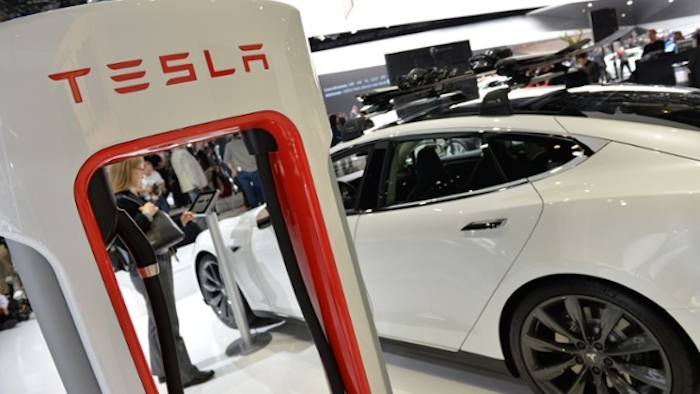 Apple CEO Tim Cook took the stage at the company's annual shareholders meeting this week amid record sales and a soaring stock price.

That wasn't on the minds, however, of a pair of investors who inquired about the possibility of the tech giant acquiring electric car manufacturer Tesla.

"Quite frankly, I'd like to see you guys buy Tesla," one shareholder told Cook during a question-and-answer session at the meeting in San Francisco.

Another told Cook later in the meeting that his Tesla vehicle "blows my mind," adding, "Am I insane to imagine something might happen here?"

Although the exchanges added speculation to the shareholders meeting, reports noted Apple has more than enough cash to make a run at Tesla. Recent reports also indicated Apple is working on a secret electric car project of its own and hired away top experts and engineers from rival companies.

A merger, however, would need to overcome a likely culture clash between high-priced Apple and Elon Musk's car company, which eventually hopes to make electric vehicles that are affordable for everyone.

Cook, for his part, responded at the meeting that Apple doesn't "really have a relationship with Tesla," but that he'd like the carmaker to add its CarPlay dashboard entertainment system. He followed with quips about avoiding the question.

"Hey, there are some perks to being CEO," Cook said.