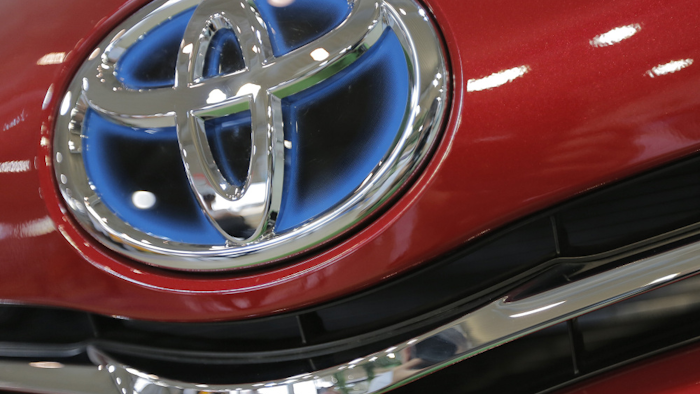 Toyota Motor Corp. said Wednesday it expects global sales of its group to slightly fall in 2015 amid weak demand in emerging economies and Japan, a development that could lead the company to lose the title of the world's biggest automaker to Germany's Volkswagen AG.
The Toyota group, which also includes subsidiaries Daihatsu Motor Co. and Hino Motors Ltd., aims to sell 10.15 million vehicles globally this year, down 1 percent from the previous year. It could post its first year-on-year fall in group-wide sales since 2011 when Japan was hit by a huge earthquake and tsunami that disrupted manufacturing industries.
In 2014, the group remained the world's biggest carmaker for the third straight year, selling 10.23 million vehicles, up 3 percent, beating rivals such as Volkswagen and General Motors Co. of the United States.
It was the first time the Japanese automaker group had sold more than 10 million units on a calendar-year basis.
The result was largely helped by robust demand in the United States as the world's biggest economy has been increasingly showing signs of recovery.
But Toyota's sales were also weighed down by sluggish demand in Japan where the April tax hike sapped private consumption and business investment.
In 2015, Toyota expects a continued negative impact from slower sales in emerging markets, including China and Indonesia. It also projects a drag on domestic sales of Daihatsu's minicars amid a tax hike planned for April linked to the vehicles with engines up to 660 cc. Daihatsu expects a 13 percent sales fall in 2015 to 800,000 units.
Toyota's parent-only sales in 2015 are expected to fall 7 percent to 1.45 million vehicles in Japan, with a 3 percent rise to 2.44 million units forecast in the United States.
In China, it plans to sell 1.10 million vehicles, up 6.5 percent but slower than a 12.5 percent growth in 2014. In Europe, sales are expected to remain almost flat at 888,000 vehicles.
Toyota also expects the global sales of the Prius hybrid to decline 5 percent to around 1.2 million units before the launch of its new models, while planning to sell more than 620,000 vehicles of the Lexus luxury brand, up over 6 percent.
In 2014, Volkswagen sold 10.14 million units, up 4.2 percent, as it accelerated efforts to bolster its dominance in China. Volkswagen has not announced its projection for this year.
Toyota, which once aggressively expanded overseas, has been more focused on cost-cutting measures and stable output at its existing factories since it incurred heavy losses in the wake of the global financial turmoil in 2008 as well as quality issues prompted by massive recalls in 2009 and 2010.
Akio Toyoda, who took Toyota's presidency in 2009, has shelved the expansion policy.
But he recently indicated the Japanese carmaker is looking to build a new factory abroad, with sources close to the matter referring to China or Mexico as a possible site. It would be the first such move by Toyota since it froze a similar project in 2013.