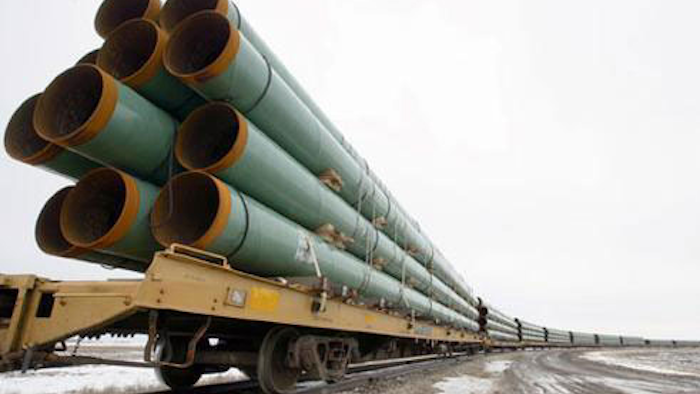 The Canadian energy giant behind the controversial Keystone XL project last week filed for U.S. approval of another international crude oil pipeline.

The Wall Street Journal reports that TransCanada officially asked the State Department to sign off on itsUpland Pipeline Project, a $600 million pipe running north from North Dakota to Saskatchewan.

The project would transport 300,000 barrels of crude oil per day from the Bakken shale range to a hub on TransCanada's proposed Energy East pipeline, which would enable crude to be shipped from the prairie to Canada's Atlantic Coast.

If approved by the State Department, along with regulators in Canada and North Dakota, the Upland Pipeline would reportedly begin operating in 2020.

The infamous Keystone XL pipeline, however, remains in limbo more than six years after TransCanada first sought State Department approval for the project, which would link crude from Canadian oilfields to refineries on the U.S. Gulf Coast.

The department's review of Keystone remains pending amid increasingly harsh rhetoric in Washington, where the pipeline transformed into a symbolic battle between proponents and critics of the Obama administration's energy policy.

Energy East, meanwhile, sparked its own problems across the border. TransCanada reportedly delayed the project by one year over concerns about the beluga whale population near Quebec.

The latest debate also coincides with the collapse in global oil prices since last summer. Producers in the U.S. shut down more than half their drilling rigs over that span, although that hasn't affected oil production. Federal officials, however, expect that to change soon.