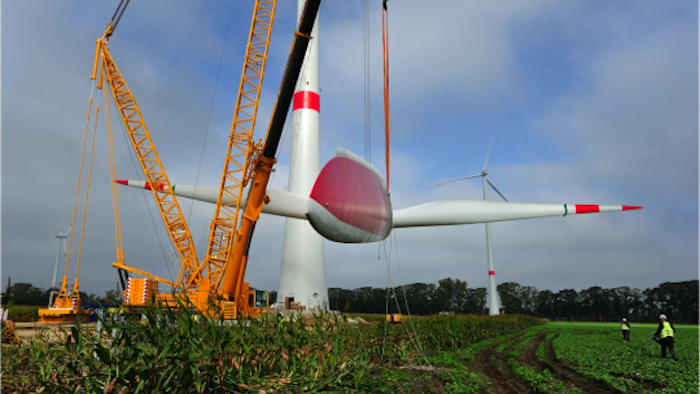 Sailors know that wind can be a fickle servant and they've come up with ingenious ways to trap it in their sails. Wind turbine designers have recently developed their own tricks to beat the doldrums and build efficient wind farms for landscapes caressed with slow-moving wind.
One such machine is the GE 2.5-120 wind turbine – the numbers stand for 2.5 megawatts in output and 120 meters (393 feet) in rotor diameter. Last year, construction crews installed 14 of them at a wind farm near Rehborn, Germany.
Rehborn is the largest installation of these massive turbines in the world. Their hubs are nearly 140 meters (460 feet) off the ground, almost half way up the Eiffel Tower. Their height and design combined with sophisticated sensors, software and data analytics allow them to be 25 percent more efficient and generate 15 percent more electricity than comparable GE models.
The designers had to solve a number of challenges. The rotor of each turbine, for example, is as large at the giant London Eye Ferris wheel, so big that the wind whips the blade tips at different speeds when one is 650 feet high in the air and another 25 stories below. This could be a problem, but the team found a clever way to alter the pitch of the blades as they spin. Much like the sail of a sailboat, the changing pitch allows the turbine to capture and concentrate the wind, even when it's not blowing too much.
The technology allows the Rehborn farm to take advantage of such "slow wind" and produce enough electricity to power 30,000 German homes.
The turbines reach nearly halfway up the Eiffel Tower. Images credit: GE Power & Water
The turbine also works well with data. There are more than 120 sensors inside the rotor, the generator, and on the blades of each turbine, that gather tens of thousands of data points every second. They feed the information to a remote database, which stores 4,000 gigabytes from 25,000 turbines around the world. GE uses powerful algorithms to analyze the data and use it to control the turbines' pitch, yaw, rotor torque and other functions.
GE's Industrial Internet software can also bring the entire wind farm together and make the turbines signal to each other like a flock of birds. They can even talk to other wind farms and compare data about wind speeds and wind direction.
"The system is monitoring the turbine's current technical and operational state, comparing this with a huge data base and then, if there is something out of the ordinary, automatically sending out an alarm and maybe even some recommendations on what to do with it," says Julian Bergmann, an engineer with GE Renewables.
Projects like the Rehborn wind farm are a crucial part of Germany's energy transition, or Energiewende. It will allow the country to phase out nuclear power and generate 80 percent of electricity from renewable sources by 2050.